Lifestyle
After a 2-year hiatus, Rock The Garden returns to Minneapolis – WCCO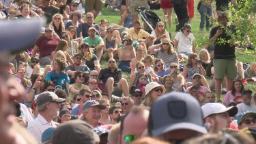 MINNEAPOLIS (WCCO) – A summer favorite has returned to Twin Cities. "Rock the Garden" is back. That means live music, food, and fun at the Walker Art Center and the Minneapolis Sculpture Garden.
Regrouping.
READ MORE: Next weather: Flash flood warning in Southern MN, followed by dangerous heat
"The vibe is super chill. Everyone here is having a great time," said Mariah Athey, who went to the concert with her mother, Sarah. "You can see it, feel it, in the air. Great. "
"We want to spend the day together. We wanted to support some of the lesser-known artists," said Tea Wagner from Hopkins.
The event is a Minneapolis tradition that has been lost for two years. Now it's back and starting over where it left off.
"Normally, the family and friends experience comes together," said Felicia O'Brien, business development manager, Felicia O'Brien, business development officer at the Walker Center for the Arts. business. "It's really refreshing."
READ MORE: USS Minneapolis-St. Paul saves a boatman on the St. Lawrence
The annual open-air concert began in 1998, and it is required to be discontinued in 2020 and 2021.
"The event is an annual favorite and I think its absence has really been felt," says O'Brien.
Daniel Weinhagen from Roseville said: "It's great to have everyone back here and to have a couple of stages and lots of local artists to be able to perform and get back on the scene. "Looks like everything is finally back to normal"
Some arrive early, staying all day to see their favorite band.
Others feel the need to rally.
MORE NEWS: Federal Reserve sets out to raise interest rates to slow inflation
"I don't really know a lot of bands here, but it's great to be in the community with people… again," said Rachel Zuraff of Gold Valley.