Fashion
Amid record high prices, gold buyers take a shine to monthly schemes, ET Retail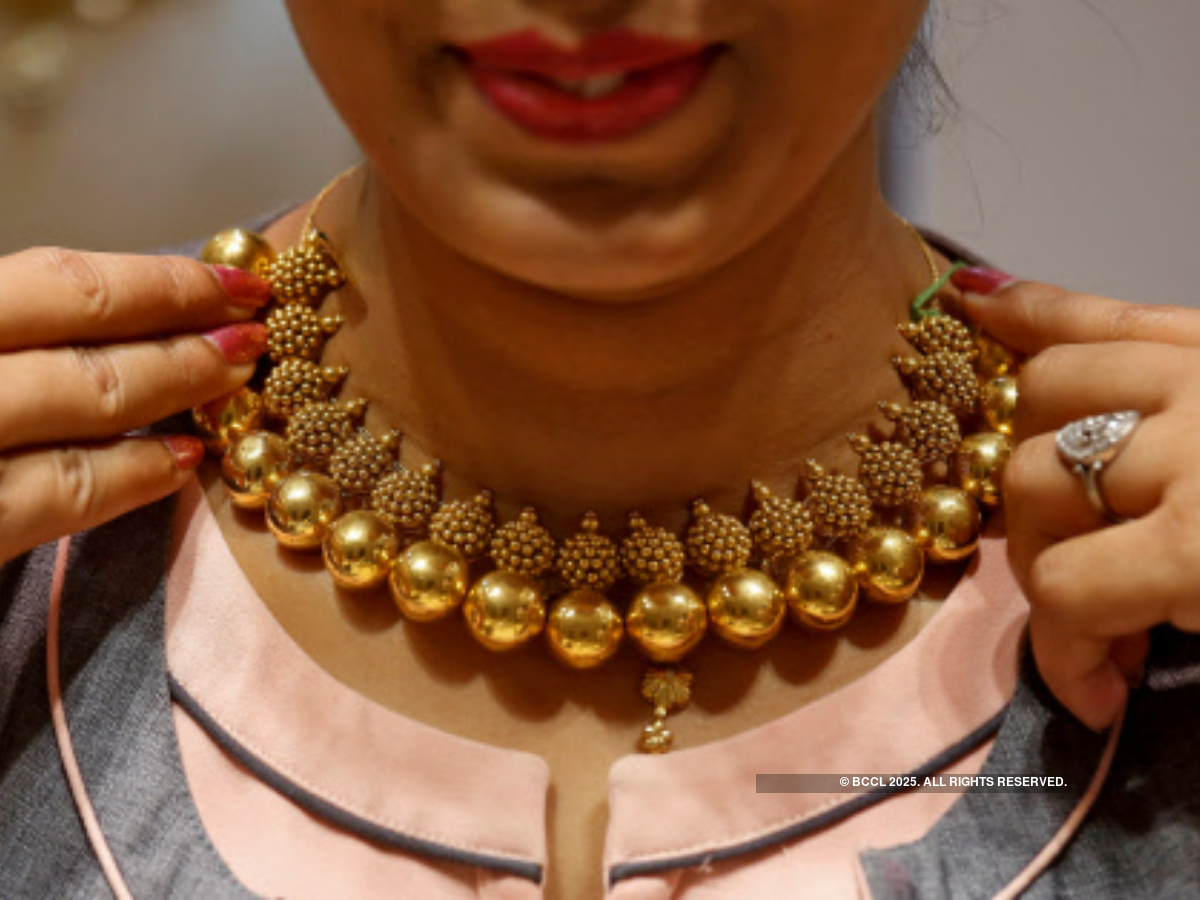 Consumers might be buying less gold amid record-high prices, but top retail chains are seeing a surge in jewellery purchased through deferred or monthly payment schemes. Some of the big jewellery retailers saw over a 50% rise in purchases through monthly schemes.
Tata Group's Tanishq received ₹3,890 crore in FY23 through the deposit scheme, up 44% from ₹2,701 crore in the preceding fiscal year.
Reliance Retail received ₹282 crore as per its latest annual report, rising from ₹184 crore a year earlier.
Typically, the retailer offers some discount on instalments as an incentive to depositors. For instance, Tanishq's Golden Harvest offers a discount of up to 75% of the first instalment in a 10-month scheme.
Even regional chains have latched on to monthly deposit schemes. Pune-based PNG Jewellers, which operates 42 stores in Maharashtra and Goa, got ₹700 crore in FY23, up 27% from FY22.
Kolkata-based Senco Gold received ₹192 crore in deposits last fiscal year, an 89% increase from a year earlier.
Gold Consumption
"Covid had impacted the gold jewellery purchase scheme, but it has picked up now. In the April-June quarter of this fiscal, enrolment in the scheme went up by 50% compared to the same period last fiscal," said Ajoy Chawla, CEO, jewellery, Titan Co., which runs the Tanishq chain.
Last fiscal, jewellery purchase plans accounted for 19% of Tanishq sales and is expected to go up to 21% this year, said Chawla.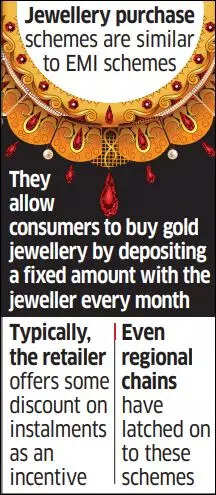 The jewellery purchase scheme allows consumers to accrue gold jewellery over a period of time through a fixed amount deposited with the jeweller every month. It is similar to an EMI scheme and allows consumers to pre-plan purchases.
Saurabh Gadgil, chairman and managing director of PNG Jewellers, said almost 20% of its sales come from the jewellery purchase scheme.
"The price rise in gold though initially had been a deterrent to gold purchase, but soon the customers got acclimated to the price. We are hoping for higher enrolment in the scheme in the upcoming festive season," he said.
India's overall gold consumption declined 2.9% in calendar 2022 to 774 tonnes from 797.3 tonnes in 2021, according to the World Gold Council. This year, the council has projected a 10% year-on-year fall in gold demand to the lowest in three years due to record high prices dampening retail purchases.
Gold prices surged to Rs 60,000 per 10 grams in March from Rs 55,300 per 10 grams in January following the American banking crisis. The prices have corrected from that level to Rs 59,200 per 10 gm.
Chawla said the market has become volatile. "Earlier, people used to buy gold throughout the year. Now it has become occasion-specific. They flood the market whenever there is any occasion, be it Akshaya Tritiya, Onam, Dhanteras, Durga Puja or a wedding in the family," he said.
The average gold consumer is also enticed by several investment options such as sovereign gold bonds and gold exchange traded funds (ETFs), said Nilanjan Dey, director of Wishlist Capital.
"However, traditional gold schemes with attractive features embedded in them are still a compelling idea for a large section of the market," he said, explaining why the schemes are popular.