World
Canadian wildfires are causing the worst air in the US in cities like Chicago and Detroit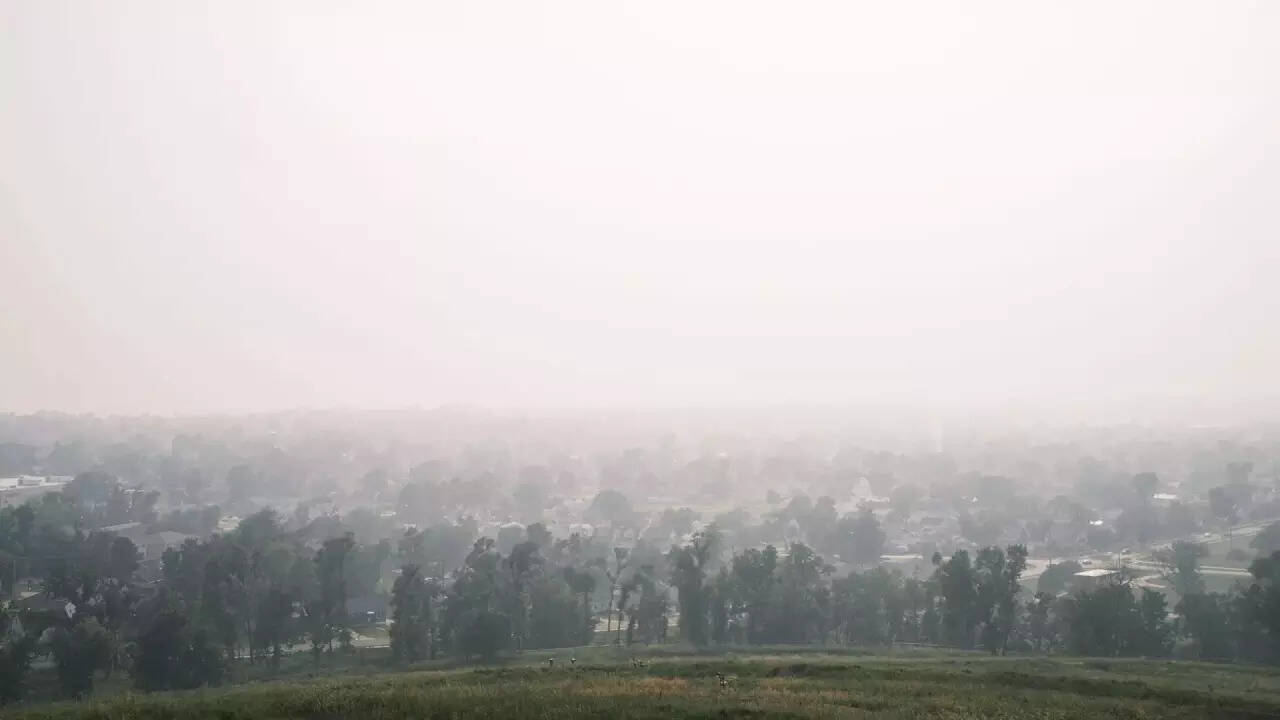 CHICAGO
: Smoke from the forest fire is going on all over
Canada
is creating veils of fog and elevating Air quality concerns throughout the Great Lakes region and parts of the central and eastern United States.
The Environmental Protection Agency's AirNow.gov website shows parts of Illinois, lower Michigan and southern Wisconsin having the worst air quality in the United States on Tuesday afternoon, and Chicago,
Detroit
and Milwaukee has air quality classified as "very unhealthy."
In Minnesota, a record 23rd air quality warning was issued Tuesday through late Wednesday night across the state, as smoky skies obscured the skylines of Minneapolis and St. Paul. Michigan's Department of the Environment, Great Lakes and Energy has issued an air quality warning for the entire state. Wisconsin's Department of Natural Resources has also issued an air quality advisory for the state.
In Chicago, officials urged young people, older adults and residents with health problems to spend more time indoors.
Shelly Woinowski, who is visiting the Lincoln Park Zoo in Chicago, said: "Just driving into the zoo … you can see around the buildings, like fog.
Several day care centers in the Chicago area have told parents their children will stay indoors on Tuesday due to poor air quality, while a youth sports club teens say they've adjusted their activities to allow more time indoors.
Mayor Brandon Johnson said in a statement: "As these unsafe conditions continue, the city will continue to provide updates and act quickly to ensure that vulnerable individuals vulnerable have the necessary resources to protect themselves and their families".
In the Milwaukee area, Flight for Life Wisconsin was unable to respond to a motorcycle crash because the Federal Aviation Administration required visibility 2 miles (3.2 km) and visibility was reduced to 3 /4 to 1.5 miles (1.2-2.4 km) ) due to cloudy skies, said CEO Leif Erickson.
Bryan Jackson, a meteorologist with the National Weather Service, said fires north of Quebec and low pressure east of the Great Lakes are sending smoke across northern Michigan, and across southern Wisconsin and Chicago. .
Jackson added that a northerly wind will push the smoke further south, moving into Illinois, Indiana and Kentucky late Tuesday and overnight.
The Canadian Interagency Wildfire Center reported on Monday that 76,129 square kilometers (29,393 square miles) of land including forests has burned across Canada since January 1. This exceeds the previous record set established in 1989 is 75,596 square kilometers (29,187 sq mi), according to the national forestry database.
Nationwide, there are currently 490 fires burning, of which 255 are considered out of control.
Officials say even recent rainfall in Quebec likely won't be enough to quell the wildfires ravaging the northern part of that province, but wet weather could provide an opportunity for firefighters to get ahead. before the fire.
Nearly a quarter of the fires in Canada are in Quebec. Environmental Canada meteorologist Simon Legault said he expects rain to stop by Wednesday morning in areas hardest hit by the wildfires.
Earlier this month, massive wildfires burned swaths of forests in Canada that blanketed the northeastern United States and the Great Lakes region, turning the air a yellow-gray color and issuing warnings for people to stay indoors. and close the window.
Small particles in wildfire smoke can irritate your eyes, nose, and throat, and can affect your heart and lungs, making it harder to breathe. Health officials say it's important to limit outdoor activities as much as possible to avoid inhaling these particles.
"Until the fire is extinguished, there is still a risk," Jackson said. "If there's any northerly component of the wind, it's likely to have smoke."
In early June, US President Joe Biden said in a statement that hundreds of US firefighters and support personnel had arrived in Canada since May, and called attention to the crowds. fires as a reminder of the effects of climate change.
According to Joel Thornton, a professor and chair of the department of atmospheric sciences at the University of Washington, a warming planet will produce longer and hotter heatwaves, producing larger, more smoky fires.
Priti Marwah, who was starting to run along the city's lakeside, described Tuesday's haze in Chicago as "bad".
"Like, you can smell it," she says. "I run hundreds of miles a week, so this is going to be very dangerous today. You can feel it… even just park right there and step out, I can feel it in my lungs."
Smoke from the wildfires moved to Minnesota late Monday, and smoke from the ground is expected to spread across southern, east-central and northeastern Minnesota. That includes the Twin Cities area, up to the northeast corner of the state and down to the southwest and southeast corners.
The Minnesota Department of Pollution Control tweeted that Tuesday marks the 23rd air quality warning in Minnesota this year, breaking the previous record of 21 in 2021. Minnesota typically has an average of two or three warnings. in one season.
Paul recorded the worst air quality in the United States two weeks ago due to smoke from the Canadian wildfires. As of Tuesday afternoon, the air quality was rated "unhealthy" across eastern Minnesota from the Canadian border to the Iowa border.
The MPCA said a cold front will move over Minnesota on Wednesday, bringing cleaner air from the west across the region early Thursday.
But on Tuesday, the upcoming respite meant little to Dan Daley, a resident of St. Louis Park, Minnesota.
"There are days when it's miserable because you can't spend a lot of time outside," he said.
Daley said he smelled – and tasted – smoke in the air when he left the house this morning. He saw the cloudy sky and wondered if that would be the norm for future summers in the area. When air quality makes it unhealthy to be outside, Daley struggles to do the things she enjoys like hiking, camping and walking around town.
He worries that people in other parts of the country who haven't experienced bad air quality days will think it's not a big deal. "If they think the smoke isn't that bad, they should come here and see for themselves," Daley said.