World
Chairs: G20 Ukraine para faces Russian, Chinese fire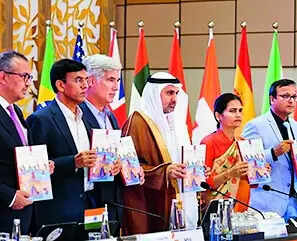 NEW DELHI: The G20 health ministers' meeting ended with an outcome document that was unanimously adopted except for a paragraph on
Ukraine
that Russia and China objected to and which was classified as the Chair's summary. All the remaining paragraphs comprised the outcome document that, as the government said, received support of all participating countries.
Russia and China maintained their objections to the paragraph lifted from the 2022 Bali Declaration that condemned Russia's aggression, while acknowledging different views and assessments. With Russia no longer backing the paragraph text, the G20 ministerial meetings this year have ended only with an outcome document and Chair's summary, and not a joint communique or a consensus document.
The official statement issued on the conclusion of the G20 health ministers' meeting at Gandhinagar in Gujarat stated that Russia rejected the inclusion of 'geopolitical paragraph 22' on the basis that it does not conform to the G20 mandate and recognises the status of the paragraph as Chair's summary. Russia agrees with the rest of the text, the statement said.
China, the statement said, stated that G20 is not the right platform to address security issues and opposed the inclusion of the geopolitics-related content.Russia and China objected to the inclusion of the same paragraph also in the meeting of the digital economy ministers in Bengaluru.
"We reiterated our national positions as expressed in other fora, including the UN Security Council and the
UN General Assembly
, which, in Resolution No. ES-11/1 dated March 2, 2022, as adopted by majority vote (141 votes for, 5 against, 35 abstentions, 12 absent) deplores in the strongest terms the aggression by the Russian Federation against Ukraine and demands its complete and unconditional withdrawal from the territory of Ukraine," the outcome document and the Chair's summary noted.
The G20 meeting in Gandhinagar was attended by health ministers of 29 countries. The outcome document and the Chair's summary stated most members strongly condemned the war in Ukraine and stressed it is causing immense human suffering and exacerbating existing fragilities in the global economy – constraining growth, increasing inflation, disrupting supply chains, heightening energy and food insecurity, and elevating financial stability risks.
The G20 health minister's meeting arrived at a consensus to build more resilient, equitable, sustainable and inclusive health systems equipped to address ongoing global health challenges and future public health emergencies. The need for equitable access to safe, effective, quality-assured and affordable vaccines, therapeutics, diagnostics.