World
China launches drills around Taiwan in angry response to V-P Lai's US trip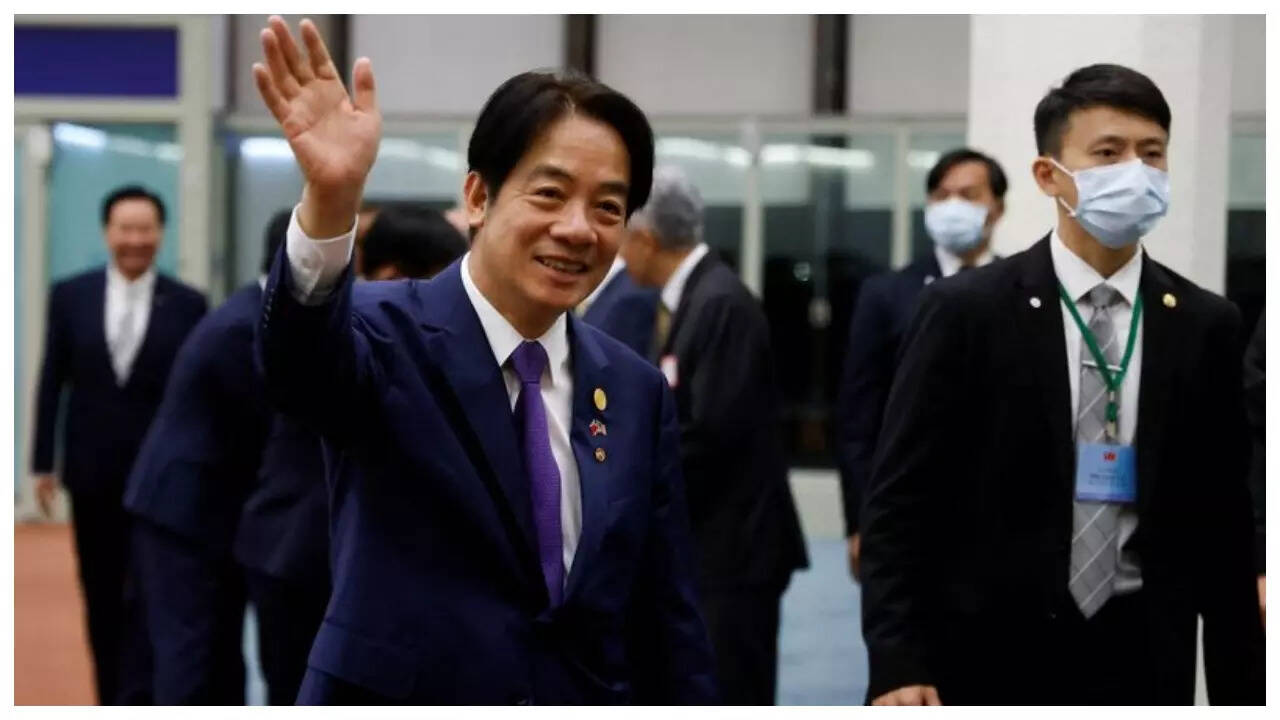 SHANGHAI/TAIPEI: China's military began drills around Taiwan on Saturday, saying it was a "serious warning" to separatist forces in an angry and widely expected response to a visit by Vice President William Lai to the United States, drawing condemnation from Taipei.
Lai, the front-runner to become Taiwan's president at elections in January, returned from the United States on Friday, where he officially made only stopovers on his way to and from Paraguay, though he gave speeches while in the country.
China views democratically governed Taiwan as its own territory, despite the strong objections of the island's
government.
The People's Liberation Army's Eastern Theatre Command, which has responsibility for the area around Taiwan, said in a brief statement it was carrying out joint naval and air combat readiness patrols around the island. It said it was also holding joint exercises and training of naval and air forces, focussing on subjects such as ship-aircraft coordination and seizing control, to test the forces' "actual combat capabilities".
"This is a serious warning against Taiwan independence separatist forces colluding with external forces to provoke," it said.
Taiwan's defence ministry strongly condemned the drills, saying it will dispatch appropriate forces to respond and has the ability, determination, and confidence to ensure national security.
"The launch of the military exercise this time not only does not help peace and stability in the Taiwan Strait, but also
highlights (China's) militaristic mentality," the ministry said in a statement.
'Fear war'
The extent of Saturday's manoeuvres was not immediately clear.
Regional defence attaches and analysts were scrutinising the scale and intensity of the operations, seeking to gauge them against intensive Chinese war games in August 2022 and April this year.
After the then-speaker of the US House of Representatives, Nancy Pelosi, visited Taipei last year, China's military fired missiles over Taiwan, some landing in Japan's exclusive economic zone, and staged naval drills around the island in what Taiwanese officials described as preparations for a full invasion.
The April drills, after President Tsai Ing-wen met House Speaker Kevin McCarthy on a stopover in California, were smaller but involved full combat exercises by China's two aircraft carriers, some off the island's Pacific coast.
Taiwanese officials had said China was likely to conduct military exercises this week near the island, using Lai's US
stopovers as a pretext to intimidate voters ahead of next year's presidential election and make them "fear war".
China has a particular dislike of Lai for his previous comments that he was a "practical worker for Taiwan independence". On the campaign trail, however, he has pledged to keep the status quo and repeatedly offered talks with Beijing.
Shortly before the military's announcement, the Taiwan Work Office of China's ruling Communist Party said Lai was
"shamelessly" trying to "rely on the United States to seek independence".
Lai has "stubbornly stuck to the Taiwan independence stance" and his US stopovers were "a disguise he used to sell out the interests of Taiwan in order to seek gains in the local election through dishonest moves", it said.
Lai travelled to Paraguay for the inauguration of its president. The landlocked South American nation one of only 13
countries to maintain formal diplomatic ties with Taiwan. Lai posted on Facebook pictures of himself in the capital
Asuncion, chatting to US interior secretary Deb Haaland, as well as Spain's King Felipe VI and Brazilian President Luiz Inacio Lula da Silva.
The United States, like most countries, has no formal ties with Taiwan but is its strongest international backer, bound by law to provide the island with the means to defend itself.
China has over the past three years ramped up military pressure on Taiwan, including sending military aircraft and
warships near the island.