Lifestyle
Comedian Kevin Hart is serious about his Hart house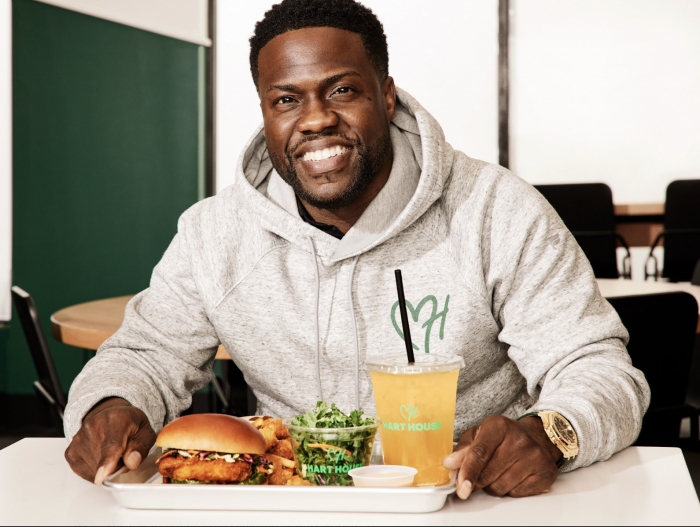 Image courtesy of House Hart
According to the USDA, Americans eat 50 billion hamburgers each year. Comedian, actor and now a restaurateur prefers to eat a healthier, flexible diet. Realizing there weren't any plant-based fast food options in Southern California, he hooked up with a team of experts to create a casual, quick, plant-based dining concept that provides offers healthier burgers, sandwiches, fries, chips, carbonated soft drinks and milkshakes.
Hart House is not only related to Kevin's last name but also to maintaining a healthier heart. The logo is a heart shape with an 'H' next to it. His goal is to help change the overall well-being of people and our planet, with a mission to bring "Plant-Based Food to Everyone".
After he opened his first Hart House in Westchester near LAX in 2022, the next group opened in the town of Monrovia. Now they just opened a third location in the heart of Hollywood, on Sunset Blvd. and Highland Avenue. Not just across from the iconic Hollywood High School, but across from Chick-fil-A. This location even has a drive-through service to order and pick up healthy food on the go.
According to a recent study, if diners in the Los Angeles metro area ate a plant-based alternative burger each week, the GreenHouse gas savings would be equivalent to 3 billion miles of car driving and up to 7.5 billion passenger miles by plane. These numbers show how big of an impact a seemingly small choice, like a meal, should be accepted.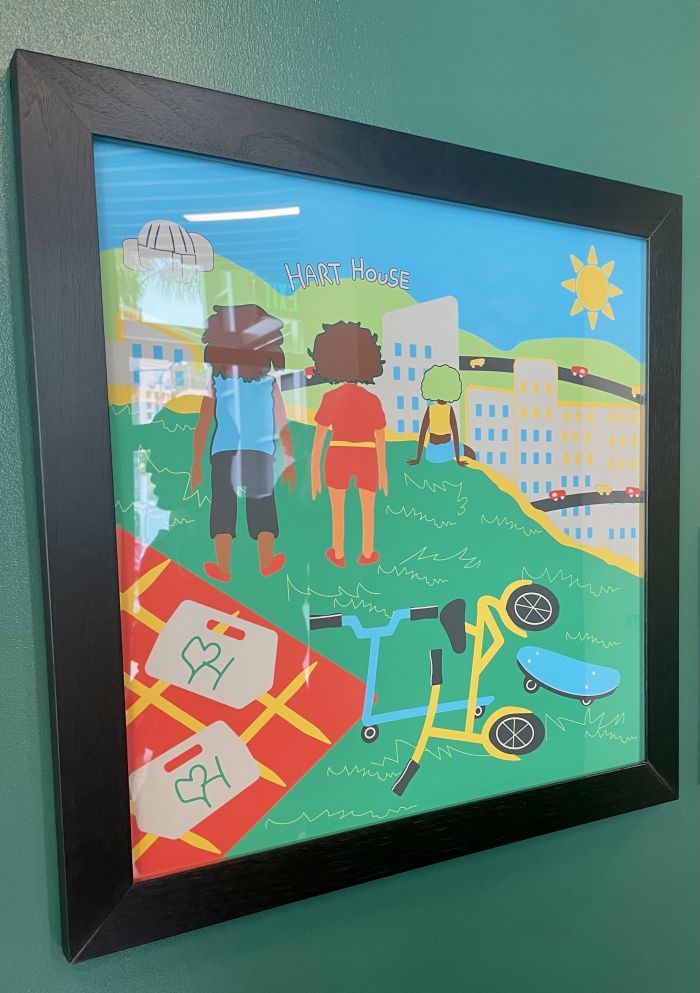 Jill Weinlein
Recently on Earth Day, Hart House unveiled a Community Inner Arts program to educate the broader Los Angeles area about the potential benefits a plant-based diet can offer. for the earth. Three graduates from Inner City Art's Work of Art college preparatory program have created digital artwork that is printed on canvas and is currently on display at Hart House locations.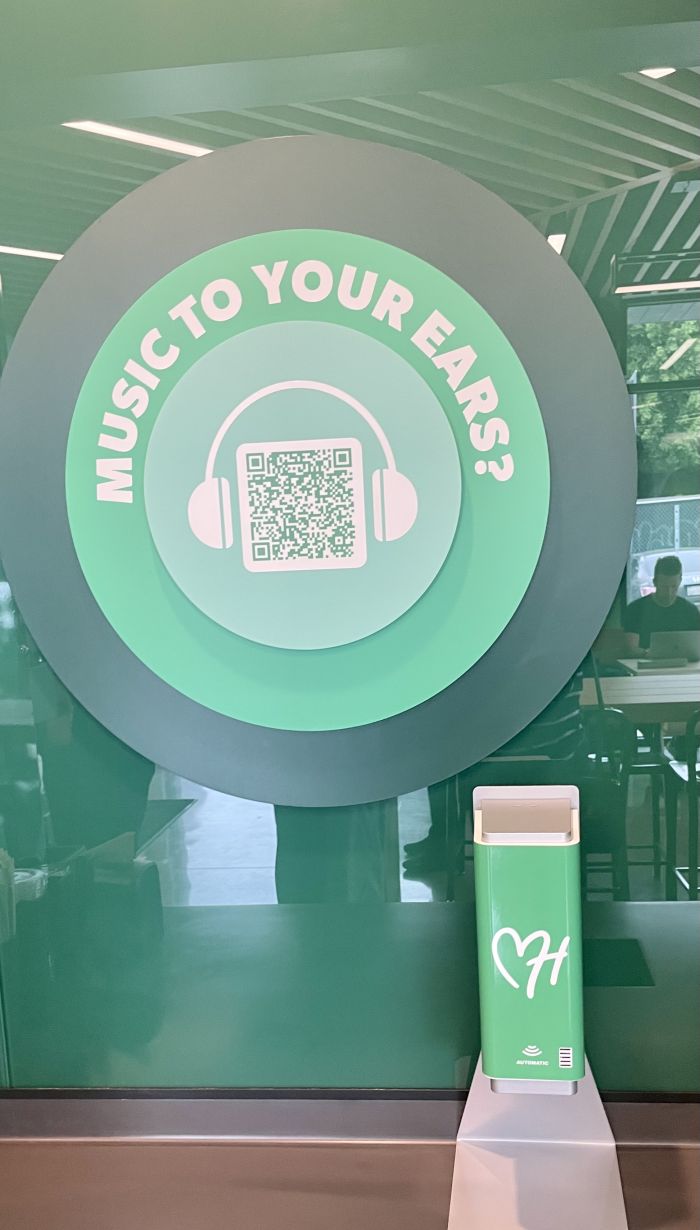 Jill Weinlein
Guests dining at the Hart House will find live music playing in the background. There's a QR code inside near the organic soda dispenser for diners to download and get Kevin Hart's Spotify playlist on their personal phones.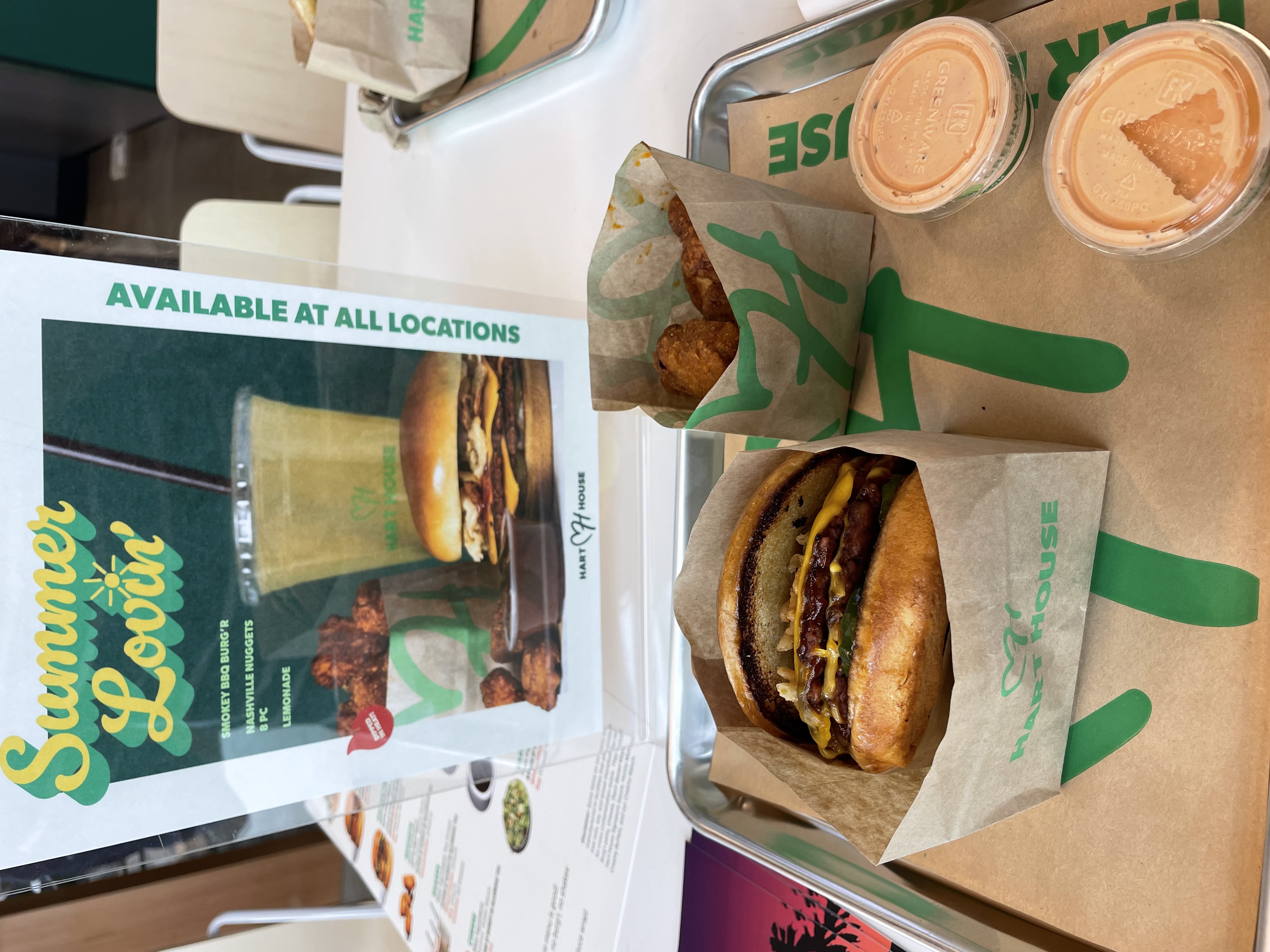 Summer Lovin' Special – Photo by Jill Weinlein
According to Marcus Byrd, Brand and Marketing Manager at Hart House, there are two different types of plant-based patties in Hart House bread. 'They're not Beyond Meat or Impossible, but fresh patties made in Canada and Brazil.'
One of the most ordered items is the Double Burg'r, which is made with two delicious plant-based patties, crispy lettuce, sliced ​​tomatoes, grilled onions and Hart House Signature sauce on bread.
In summer, 'Summer Lovin' is a special combination consisting of grilled meat sandwiches, crispy nuggets and lemonade.
Popular dishes include chips, fries, or a small kale salad. "When guests want to combine fries and chips, they can order 'Frots' with one of our special sauces," says Byrd.
Besides organic juice drinks and organic sodas, Hart House also produces dairy-free milkshakes. "The Oreo shake is our most popular," says Byrd.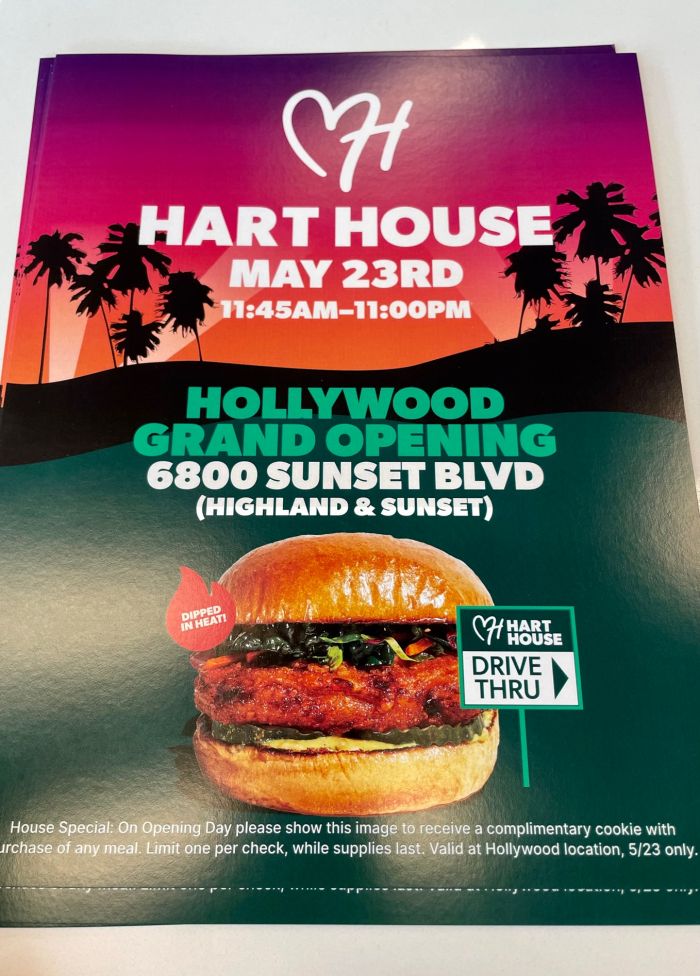 Opening of Hart House in Hollywood
To celebrate the opening of the third Hart House location on May 23, 2023, Kevin Hart and his team partnered with the Assistance League of Los Angeles and donated 10% of the grand opening day profits to the charity. this worthy community work.
When they learned that one in four children in Los Angeles lived below the poverty line, they adopted this worthy organization to help make a difference.
Support Los Angeles works to make a positive impact in the lives of LA youth by providing basic needed services and providing rich community programs. Their mission is to lift children up and help them reach their full potential as they grow to become adults.
Hart House seeks to change the way people eat, by providing them with options to help promote a positive and healthy impact on themselves, their community, and the world.