Game
Danganronpa Devs is back with another mysterious explosion
I would rather not compare Master Detective Archives: Rain Code for the games its creative team is best known for, but I couldn't help but as Spike Chunsoft and Too Kyo Games' latest murder mystery certainly invites comparisons. Alike danganronpa before it, Rain Code is a murder mystery from the mind of Kazutaka Kodaka, embellished with Rui Komatsuzaki's distinct art style, all based on the techno jazz music of Masafumi Takada. Nearly every mechanic has a ratio close to 1:1 which equates to danganronpato the point where I played through and wondered if everyone involved would like to make another of those titles but can't because Danganronpa V3'S curse meta-comomentarily about running a series of movies to the ground until it's unrecognizable.
Whatever the motivation, Rain Code there's still a lot danganronpaPink blood runs through its veins, and while it took a while to begin to live up to its predecessor, it made me wrap my fingers around its last boxes and hope. that Kodaka may have found a new outlet to satisfy his fascination with mysteries without returning to a story that ended long ago.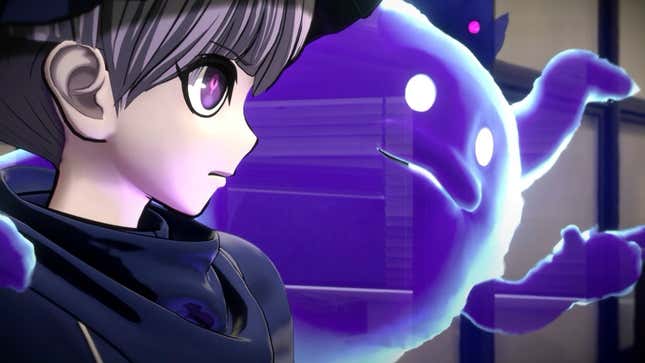 Rain Code Follows a detective-in-training Yuma Kokohead in a world where detectives are superpowered figures respected around the world. He is an amnesiac who has made a deal with a grim reaper named Shinigami, who takes the form of a purple specter with a love of carnage and death, all while immersing himself in it with spontaneity. cheerful change. Like Kodaka's previous work, the game uses the two characters' opposing views of the world to constantly oscillate between dire mishaps and absurd humor but uses the supernatural framing of the game. it to turn the group's usual antics into an inevitable conclusion. Much Rain Code feels like Kodaka's writing style at his most free, no longer bound by the limitations of a (relatively) grounded context and free to use magic, superpowers and god-like entities to justify some wild image, good or bad.
In the first few chapters, I was delayed by Rain Codesupernatural elements and how they frame mystery solving. As Yuma and Death stumble across cases surrounding the city of Kanai Ward, Death opens up a pocket dimension that leads to the mysterious Labyrinth. This is quite comparable to a Palace in character 5 in that they are physical manifestations of the mystery itself. Every question about a case is taken literally, whether it's the doors to step through to answer the multiple-choice question or the enemies Yuma must fight with a blade that carries the truth in its own right. black. interrupt their argument as they appear in the text on the screen.
danganronpa demonstrate these same concepts through more iconic mini-games, such as imagining you are skiing downhill and choosing paths that represent the answers as you do the calculations . Rain Code Use the Mysterious Maze to give everything a fascinating place in its world. I admire the commitment to detail, but the initial framing feels like the game is bending over backwards to deliver. danganronpa mechanics into a legally distinct format in a way that proves every time inference and argument in a tangible, rather than conceptual, way.
Until the later chapters, where Rain Code started to really take into account the reality of using the Mysterious Maze that I started buying. Shinigami was a ghost when she and Yuma were in the real world, but when they entered the Maze, she stripped off her mascot character design to become her true form: that of a person. tall, gothic woman who collects the perpetrator's soul at the end of each case. Once Yuma faced the truth, he also had to face the cost of finding it out. Unlike danganronpa, this method and result is not forced on Yuma, he just keeps falling into it as he stands on his hind legs. At its core, Rain Code talks about the pursuit of truth and its consequences, but while Shinigami leaves behind a corpse after waking her up, the game assumes that truth is not meant to be morally right or wrong. By exposing it, people can build from the truth rather than tear themselves down further.
This is why Rain Code constantly draw comparisons with Kodaka's most prolific work. If not for all the obvious mechanical and artistic similarities, the fundamental belief in humanity is the symmetry that connects this group's past and present work. Rain Codelater chapters evoke the same emotional outbursts for which this group is best known, even if it takes time to get there. In many ways, the story and its mysteries become muddled, sometimes diluted by the supernatural framework rather than enhanced by it. But despite my initial doubts, I was pleasantly surprised at how well it put together. Given the history of this team, maybe I should trust Rain Code to get me in the end.
All frames aside, Rain Code Doesn't feel rough around the edges from a technical point of view. Instead of using the 2D character-based visual novel style of danganronpaalmost everything in Rain Code rendered in 3D, and this game creates something fierce on the Switch. Whether it's in the exploration sequences through Kanai Ward or the action-oriented settings in the Mysterious Maze, the game often feels like it's struggling to hold its own. While the third person, the 3D setting brings Rain Code its own flavor and allows the game to have some pretty spectacular visual moments (Kanai Ward's neon-filled cyberpunk aesthetic looks great when it's not moving), there are times when the game feels felt like it needed another pass to hit the technical ball.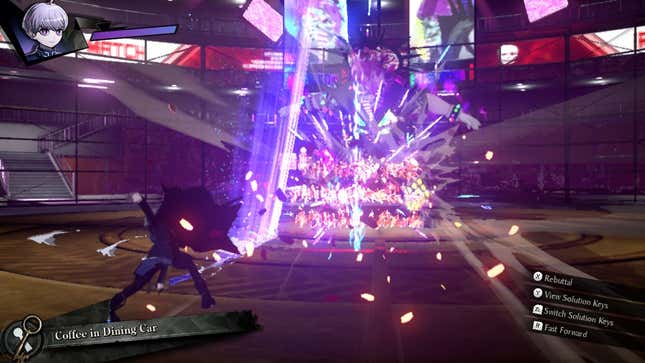 At a certain point, I think I became insensitive to frame rate drops and believed in the concept and was happy to plunge into the Mysterious Maze. relatively, Rain CodeTheir cases aren't quite as complicated as their predecessors, but each has satisfying mysteries and an explosive human element at its core. Even if I feel skeptical about a revelation, Rain Code will quickly point out the clue I've long forgotten that ties everything together. Some solutions may feel far-fetched, but in the world it's established in, these cases feel discreet and satisfying to deal with, even if the conclusion is devastating as the follow-up plays out.
Rain Code built by a team that knows how to make these types of games, and as a longtime fan of the topics Kodaka tends to write around, I was pretty emotional about the end though at first it almost made me lose interest. If you've never been a fan of Kodaka's blend of camp, heavy themes, and theater, Rain Code likely won't marry you. But even though it feels like danganronpaof its distant cousins, it's clear that this team doesn't need to rely on Monokuma's death game as a crutch and can instead build something new on its bones. Hopefully this means Kodaka can continue to let old things die of their own accord and create new ones instead.