Lifestyle
Discover Résonance Wines From Oregon's Wine Country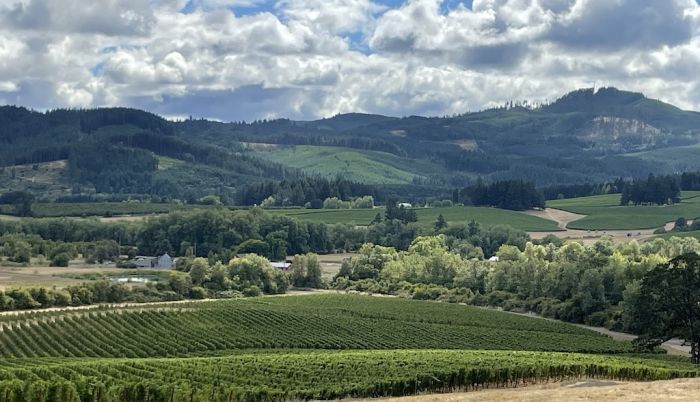 Willamette Valley
For lovers of domestic Pinot Noir, the choice lies between whether you prefer wines from Oregon or California, as the varying climates of the two regions greatly influence the taste and style of the wine. California Pinot Noir contains more alcohol with lower acidity and tends to be denser in taste with a fruit forward ripeness while Oregon Pinots are lighter and more balanced with more acidity and less alcohol. Overall, Oregon Pinots are the preferred choice for food pairings.
Oregon's Willamette Valley is a producer of some of the world's best Pinot Noir wines with more than 19,000 acres of vineyards and close to 1000 wineries, making it the largest AVA in the state. The climate, which is moist and much cooler than California's, is a mixture of Mediterranean and oceanic. The Willamette River flows through the entire length of the valley and is surrounded by three mountain ranges: the Oregon Coast Range to the west, the Cascade Range to the east, and the Calapooya Mountains to the south. The river is key to wine production, as it deposits highly fertile soil that is made up of loose clay, silt, sand or gravel. 

Résonance Wines Grand Tasting Room
There is nothing more vital to the process of wine-making than the complexity and quality of the soil from which the grapevines grow, or in the words of the winemakers at Résonance Vineyards in Oregon, "the expression" released from the wine that is translated to one's tastebuds. Résonance is made up of four Estate vineyards, covering a total of 402 acres:  Résonance Vineyard and Joils Monts Vineyard in the Yamhill-Carlton AVA; Découverte Vineyard in the Dundee Hills AVA; and Koosah Vineyard in Eaola-Amity Hills. The varietals planted are 76% Pinot Noir and 24% Chardonnay. There are many selections to choose from in the form of single vineyard wines, estate blends, Willamette Valley blended wines, and the crème de la crème, the Choix Du Couer- or "Heart's Choice"- the winemakers' selection of wine chosen from some of the oldest blocks in the vineyards. This selection has been resting in a barrel for over a year and is regularly tasted and evaluated. Special edition wines are also available to members.
Résonance Vineyard Estate Pinot Noir
Led by winemaker Guillaume Large, the magic of Résonance Wines lies in part to the fact that the location in Oregon's Willamette Valley shares the same latitude and a similar climate with Burgundy in France which is known for its Pinot Noir and Chardonnay wines. Résonance is Maison Louis Jadot's first winery outside of Burgundy. The existing vineyard was discovered in 2013 by former Maison Louis Jadot lead-winemaker Jacques Lardière and current Director of Operations, Thibault Gagey, whose family has operated the wine house since 1962. Sensing that he was onto something quite special, Lardière came out of retirement as Maison Louis Jadot's lead-winemaker of 42 years to participate in the founding of Résonance. Thibault's father, Pierre-Henry Gagey, has been the president of Maison Louis Jadot since 1992. The senior Gagey says, "With Résonance Vineyard, we realized Willamette Valley is to the New World what Burgandy is to the Old World. There is a feeling, a spirit, an energy-a 'somewhereness' that tells us this place can produce expressive single-vineyard Pinot Noir wines with an identity and personality."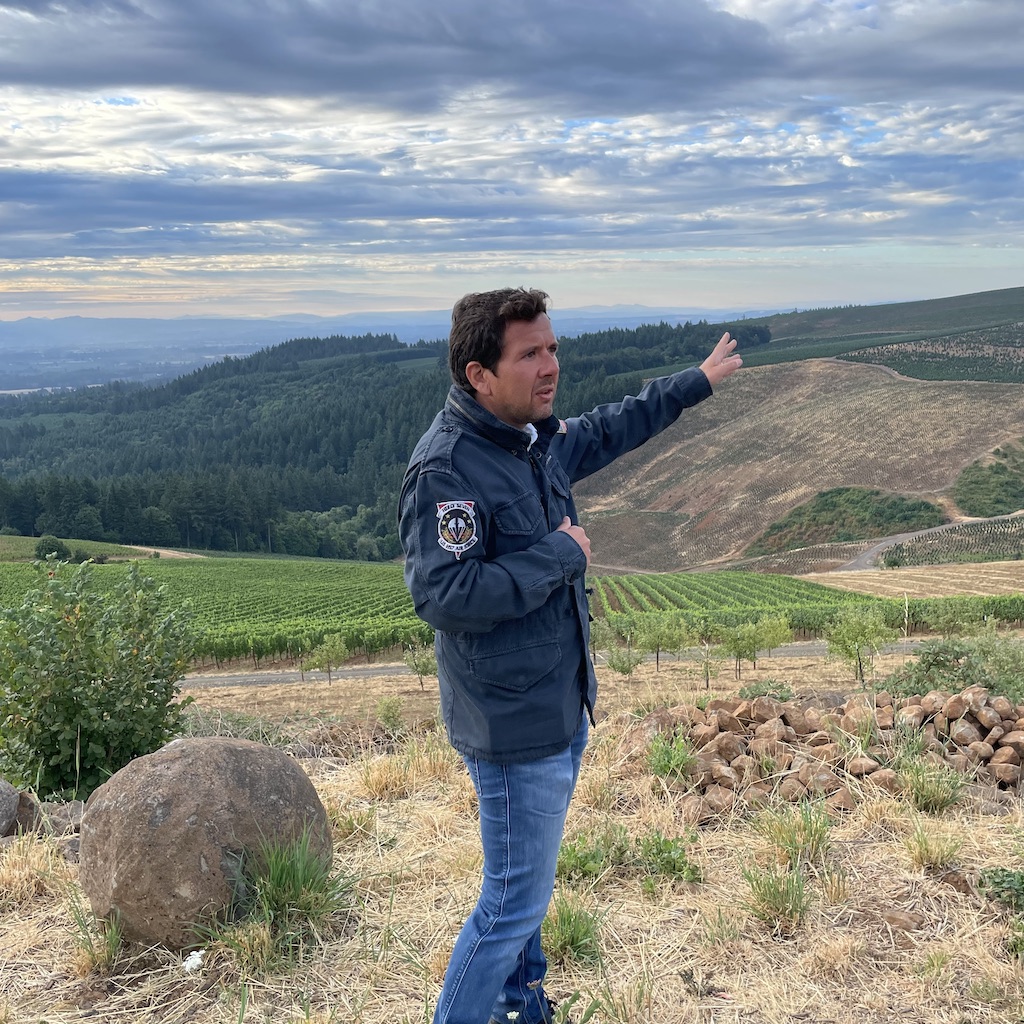 Winemaker Guillame Large
Guillaume Large moved to Oregon in 2017 with his family to lead winemaking for Résonance. Large grew up in Burgundy's Pouilly-Fuissé appellation and spent some time working in the family vineyard that was planted by his great-grandfather. Initially Large received a law degree with the hopes to become an officer in the French army but his eyesight prevented him from this goal. Afterward, he worked with his cousins in the family vineyard and discovered that he had a true passion for the wine making process. This led him to earn a Bachelor's Degree in Viticulture and Oenology and a Master's in Oenology. He earned the extremely prestigious  Oenologist's National Diploma at the Jules Guyot Institute of Dijon. When asked his opinion on the key difference between Californian Pinot Noirs and Oregon Pinot Noirs Large says, " In Oregon, there is a true balance between the potential level of alcohol, the sugar and the acidity. The wines created in Oregon often have lower alcohol and higher acidity due to the cooler climate." This seems to be a preference for many fans of Pinot Noir wines since Oregon leads California when it comes to producing top-notch wines.  
Large further expressed, "We pick the grapes by hand and vilify each vineyard in separate tanks, block by block, to boost, check, and verify the complexity of the Pinot Noir and Chardonnay. In this way, we use the winery to reveal the terroir of each vineyard. Our soils are alive, and the deep roots bring more complexity and minerality to the grapes, truly expressing the place,' Large says. Accordingly, they don't use herbicides or chemical pesticides and they till the soils and dry farm, so there's no irrigation involved. This Burgundian approach to dry, organic farming produces high-quality and low yields. The goal is to express the truth of the place and Résonance more than succeeds.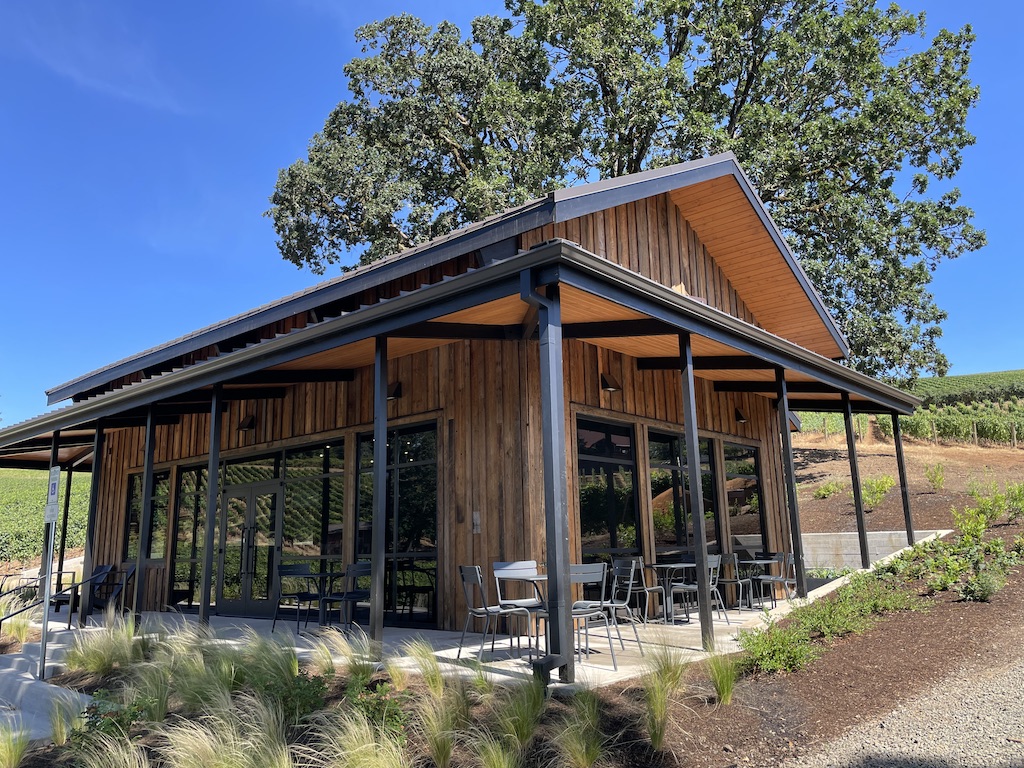 Découverte Vineyard Tasting Room
Résonance Wines has recently opened a new Tasting Salon on the Découverte Vineyard in Dundee Hills, Oregon. The charming tasting room is made from reclaimed barn wood and offers estate flights, rotating glass pours, and gourmet small bites. Experiences may be enjoyed indoors at the intimate tasting bar or on the outdoor patio in an idyllic setting with panoramic views of the valley in the shade of century-old oak trees. Découverte, translating to discover in English, is comprised of 15 acres of vines with 12.5 dedicated to Pinot noir and 2.5 for Chardonnay. The Grand Tasting Room is located in Carlton atop a dramatic hill offering breathtaking views of the Résonance Estate. Daily tastings are available in addition to select winery events, private events and receptions. 
Prices range from $32 for a Rosé of Pinot Noir to $50 for a Les Coteaux Pinot Noir Estate Blend; $70 for a Découverte Vineyard Chardonnay to $80 for a Découverte Vineyard Pinot Noir and $95 for a bottle of Découverte Choix du Coeur Pinot Noir.