Lifestyle
Dish with Top Chef Winner Kristen Kish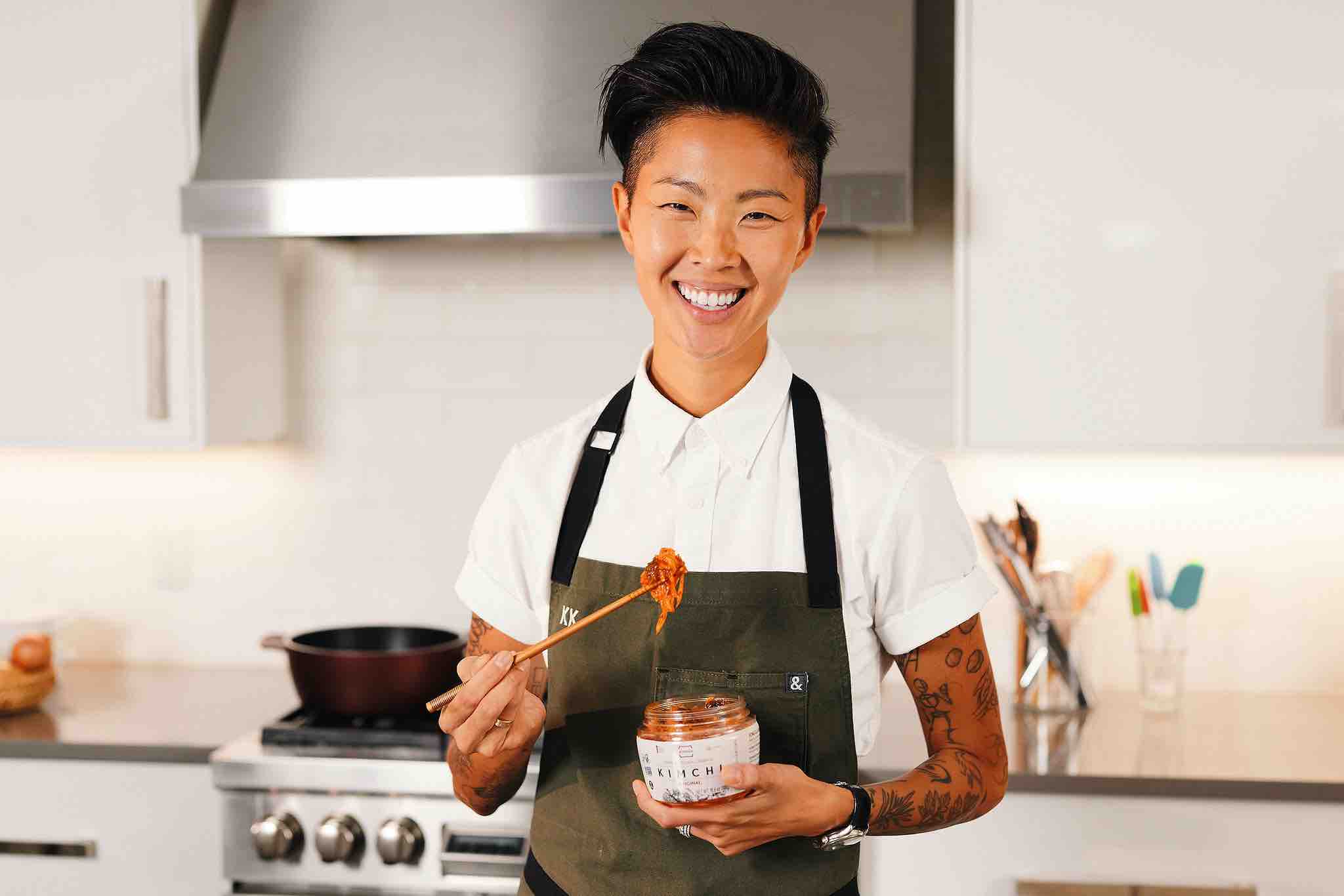 Jongga
Top Chef season 10 winner, Kristen Kish, is teaming up with Jongga, the leading kimchi producer in Korea and the top imported Korean kimchi brand in the United States, to support the Bao campaign. Existing New Generation of Brands. We chatted with Netflix's Iron Chef co-host about her campaign, kimchi, and upcoming projects.
JL: How did you end up collaborating with Jongga Kimchi?
KK: Kimchi is one of my favorite foods and a staple in my pantry, so partnering with Jongga – the number one kimchi brand in the world – made me and my wife happy. My Korean produce feels authentic. When Jongga approached me about their Conservation Generation campaign – an awareness campaign about plant biodiversity and the conservation of transitional plant-based foods, I knew I wanted to work with them. As a chef, preserving food has always been important to me and I'm happy to help Jongga promote this important issue.
JL: What are some of your favorite recipes using kimchi?
KK: Where do I even start? You can use kimchi in almost any recipe. Some of my favorites are Jongga Kimchi and Ham Puff Pastry Rolls, which are the perfect appetizer for your upcoming holiday parties. They're like piglets in a blanket, but with a deeper flavor & spice and extra crunch! I also love making Jongga Kimchi cream cornbread, which is another delicious, comforting recipe that you can enjoy as a side dish or a snack. The combination of soft potato and crispy kimchi is amazing!
JL: Why is it important to conserve plant biodiversity?
KK: Jongga has seen studies showing that 75% of all plant diversity – and specifically 95% of all cabbage varieties that existed a century ago, are now gone. This alarming statistic makes Jongga envision a world without all the delicious ingredients that make up Kimchi Jongga, as well as the other fruits and vegetables we take for granted. Seeing that cabbage is one of the key ingredients in Jongga Kimchi, a fermented food, the brand knew they needed to raise awareness of the importance of conserving plant biodiversity for generations to come. Then don't have to worry about losing their favorite vegetables. .
JL: What was the Top Chef experience like for you?
KK: What a surprise! It's not something I particularly want to do but it really benefits me. I did the entire once-a-day experience and had the mindset of "take the challenge one at a time". Joining the program gave me the opportunity to have a platform to talk about things that are important and interesting to me. It also reminds me that I am good enough!
JL: What are some projects you're working on that we can expect to see in the next few months?
KK: My National Geographic program "Restaurants At The End Of The World" is coming out in 2023 on Disney+ which I am very excited about. I also have a line of Soju alcoholic beverages slated to be available later this year. If you're in Austin, we're also bringing the yurts at my Arlo Gray restaurant back from November to March for patrons to enjoy.
JL: When will your cookbook come out and how can we buy it?
KK: My cookbook is out now and available anywhere that sells it.
Get recipes and learn more about Jongga at www.JonggaGlobal.com.