News
'Education quality, cost of living abroad among worries for desi students'
NEW DELHI: Quality of teaching, cost of living, scholarships, job opportunities and safety are some of the key considerations for Indian students looking to study abroad.
According to a new report from QS Quacquarelli Symonds (QS), which surveyed 1,10,306 prospective international students, Indian students' biggest concern (74%) is the cost of living, followed by finding a job. do (60%) and the possibility of a scholarship (60%). Indian students also expect universities to provide information on location and industry affiliation, experience and qualifications of faculty, and facilitate connections with existing international students.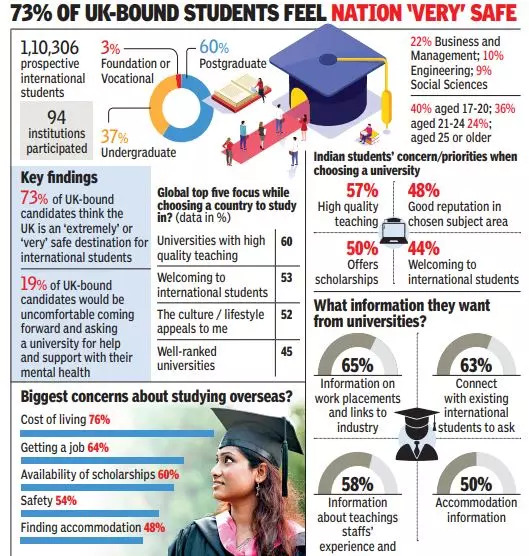 Congratulations!
You have successfully voted
The 2022 Survey of International Students (ISS) recommends that organizations align their recruitment strategies by providing insights into prospective students' priorities, concerns, and needs within a diverse set of key markets identified by the government in the IES, including China, India, Vietnam, Nigeria and Saudi Arabia.
The data is based on responses from more than 1,10,000 prospective international students from 194 countries and territories around the world – more than 63,000 of whom indicated they were interested in studying in the UK. The report shows that UK universities adopt a tailored approach to recruiting students from different target markets to sustain the success of their International Education Strategy (IES). country.
The global report found that for prospective students from China and Saudi Arabia, safety was cited as the biggest concern about studying abroad. Meanwhile, candidates from India, Vietnam and Nigeria listed the cost of living as their top concern. For Chinese, Indian and Saudi Arabian students, the most important priority when choosing a university is to provide high quality teaching, for Nigerian students it is a welcoming study destination and for students Vietnamese members are scholarships.
The report also cites that nearly 16% of students want to stay for three to six years after completing their course, while 13% express their intention to stay permanently in their country of study.
Vivienne Stern, Director, British International University, said: "This year's survey shows that we as an industry can do more to attract students from outside source countries. EU. We need to recognize and address the barriers that international students planning to study in the UK face – from student visa delays, to travel restrictions. international in their home country. It is important that the UK Higher Education sector continues to appreciate the diverse nature of its international student population every year, working to meet the individual needs of each prospective student.