News
I would love to see either Messi or Ronaldo win the World Cup: Wayne Rooney | Football News
From an extraordinary talent, learning his craft on the streets of Liverpool's Croxteth area,
Wayne Rooney
traveled the entire spectrum of the game with emotion and excitement. His frantic pace and breathtaking taste are part of Old Trafford's folklore. Gone are the glorious days but rooney is still part of the game, as he picked up the coaching job after hanging up his boots.
Getting ready for his first trip to India, Rooney talks privately with TOI at length about
World Cup
starting Sunday.
Excerpt…
It was a mid-season World Cup. Please share your thoughts on this.
Yes, I think it's weird to hold the World Cup in the winter. And all managers probably want to have preparation time with the players. It seems strange to play a Premier League game a week ago and then the World Cup starts on Sunday. I don't think the players will be fit but they have to be ready for the World Cup. It's just something different from what we're used to.
He said the players would be ready. Weather wise, how will it affect players?
Possibly to some extent. But I think the players are used to playing in all different climates by now. You see teams going to Champions League matches where they go from one extreme to another. It will have an effect, but probably not as much as people think. Honestly, I don't think it's going to be a big deal.
Can you share your thoughts on England? After reaching the semi-finals in Russia and the Euro final, is this the best time, place, opportunity for
England
to bring home the cup?
I think it's a good opportunity. Any tournament that England participates in, we hope to win. Obviously this is going to be a tough tournament in Qatar for whoever wins. I think we had a favorable group. We should get through the group stage and then obviously you need a bit of luck in the knockout stages. Of course, with a little luck, they have the potential to win the World Cup. It's a good enough team led by a good manager. Brazil are looking like a very good squad. Argentina also had a successful match. Obviously, France and Belgium or Germany are right up there. The team that finds that consistency throughout the tournament wins.
What is the most important aspect that impresses you about England?
We have quite a few young players on the team that are very interesting. I think the experience of the last two tournaments will help England. The players that get the experience of reaching the semi-finals and reaching the final will really help them. It is important to have a good motivation and then confidence will flow.
Who will pose the biggest challenge for England in the group stage?
I think all three matches will be challenging in their own right. Iran is coached by Carlos Queiroz. It will be difficult for them to get on the ball. I think Wales will make it difficult for us on the counter-attack. And the United States, under the leadership of Gregg Berhalter, will bring the game to England. Our boys should stay focused and focused. I feel confident that they will win all three games.
Can the South Americans break the European monopoly this time?
I think they can. The obvious two are Brazil and Argentina. Either of these two teams can definitely win the trophy. I think Brazil probably has the best squad, but consistency will be key. The South Americans bring a flair to the tournament, slightly different from what we get from European teams. It will be interesting to see how it plays out.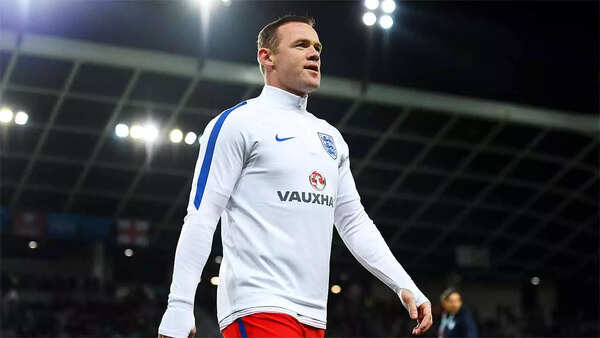 MY BEST WAZZA: Wayne Rooney played three World Cups and four Euros. (Photo by Laurence Griffiths/Getty Images)
As a coach, can you highlight the strengths of the South American?
They know all the tricks, the little things on the pitch and then they execute them very well. About England, I said this about 10 years ago, that's what England lacks. Those little tricks really distort the opposition. The European teams are perhaps a bit more disciplined than the South American teams in terms of lineups. We tend to do what the coach wants us to do. In the past, we've seen South Americans increase the number of attacks to show sophistication and not keep fit.
Subtlety gets the audience excited but that doesn't win the title, does it?
YES. That's been true for a number of years now. But before that we saw Brazil and Argentina win the cup. With Pellet and Maradona. The players have magic and that's what the fans want to see. They want to see more skillful players get hold of the ball and be allowed to show off. But as a coach, sometimes you want discipline. It depends on the balance between your team and your team and how you allow the better players to express themselves.
Now as a coach, do you allow the delicate players the freedom to express themselves?
Of course, I will. That will create moments in football that people will never forget. For some attacking players, you want them to play with expression and the freedom that allows them to go out and have moments of magic. And tell them not to be afraid of making mistakes.
With an aging defense, do you still consider Brazil a good candidate?
I think Tite has had a lot of quality players. It's about achieving the right balance, coordination and teamwork, not just on game days. Obviously, Tite will not start with nine attacking players despite picking them. They are a very good team but you have seen in the past that sometimes the favorites don't always win. I remember 2004 when Greece won the Euros, Mourinho's Porto won the Champions League. They won through hard work and solidarity. I'm sure there will be a team or two that will surprise the spring.
This is Neymar's third World Cup. Neymar causes imbalance in Brazil diagram?
It depends on the system and how the coach positions him. He is a great player and has scored a lot of goals. As a coach, I would rather be on my team than the opponent. I'm sure the Brazilian coach will set him up properly and help Brazil win their sixth.
Where do you want Neymar to play?
He can play in the front third. Honestly, I would probably ask him to start on the left as that would allow him to pick up the ball and run, instead of playing with his back to goal. He can create great opportunities for others and for himself. For me, the left wing is his best position.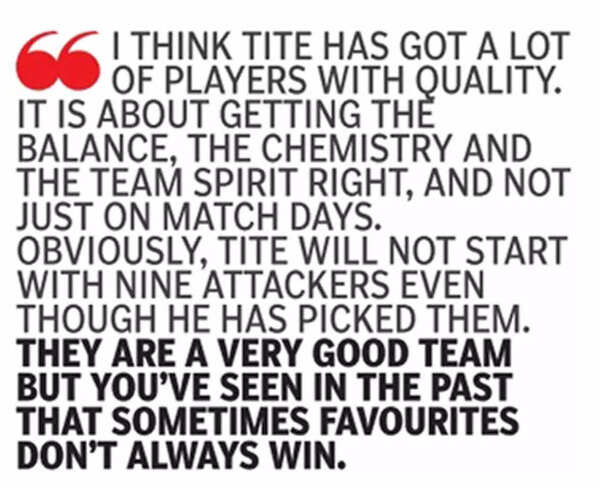 Lionel Messi probably playing his last World Cup. Will it add to the pressure on him and his Argentina team?
I'm sure he's used to dealing with expectations. The idea of ​​leaving a legacy definitely crossed my mind. I want to meet Messi or (Cristiano) ronaldo The champion of the world. It would be a fitting end to their incredible careers. I am sure that Messi will do everything possible to help Argentina win.
Who are your four semi-finalists?
I will go with Belgium. Germany. Argentina and England.
The defending champion France is not on your mind?
They have a few players who have recently won the World Cup. But they will miss N'Golo Kante and Paul Pogba. However, they are a threat to (Kylian) Mbappe, Karim (Benzema) and (Raphael) Varane.
Which players will you watch enthusiastically at the World Cup?
There are a few English players like Harry Kane and Phil Foden. And I love watching Brennan Johnson of Wales. Gabriel Jesus is a different person. It will be interesting to see if Jesus can repeat his form at Arsenal.
So Wayne wants Messi or Ronaldo to win the World Cup…
If it's not England, then I want one of the two teams to win the cup. It's great to see a great end to their incredible career.
How excited are you to speak to an Indian audience during a World Cup?
I am extremely excited. This will be my first visit to India. I'm looking forward to going to Mumbai on Saturday.
(Wayne Rooney will be a member of Viacom18 Sports' expert panel for world football championship in Qatar. Matches will be broadcast live on Sports18 and JioCinema)