Entertainment
Karan Johar releases BTS clip from the set of Rocky Aur Rani Kii Prem Kahani
Karan Johar has announced that the first look from the upcoming movie Rocky Aur Rani Kii Prem Kahaani will be released on Thursday, which is also his birthday.
To celebrate his upcoming 25 years in the Hindi film industry, Karan Johar shared a video on Instagram on Wednesday. The video includes several excerpts from his films over the years, including Kuch Kuch Hota Hai (1998), Kabhi Khushi Kabhie Gham (2001), My Name Is Khan (2010), Student of the Year (2012) ) and Ae Dil Hai Mushkil (2016).





Additionally, Karan has revealed some insider footage from his previous projects. The director also provided viewers with some behind-the-scenes photos from the set of Rocky Aur Rani Kii Prem Kahaani.
In the background of the video, there is a voiceover by Karan saying, "Love comes with conflicts and challenges but it's the most beautiful feeling in the world. Looking back on my 25-year journey in filmmaking, I 'I am filled with infinite gratitude. What started as a small attempt to share stories of friendship, friendship and family has resonated with me."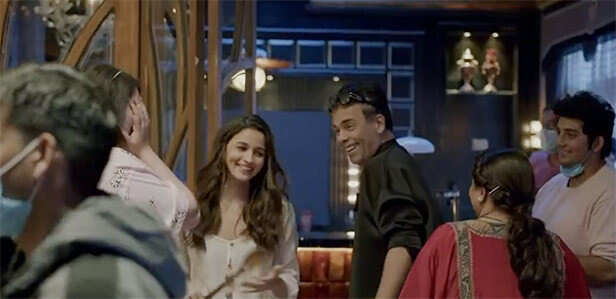 He added, "But as each of you embraced these stories and characters, love found a new meaning for me every day. As I turned 25 years into the industry, this love. Your love has given wings to a new story, a new premise. kahani (love story), a story that celebrates love like never before in all its beauty and greatness. The movie that I've been waiting to share with you for so long is finally ready. See you soon in movies where we celebrate family, love and more."
Sharing the clip, Karan wrote: "Nothing but gratitude for the wonderful 25 years I've spent in the director's chair. I've learned, I've grown, I've cried, I've laughed – I've lived And tomorrow another part of my heart will be yours to see and I couldn't be more excited to celebrate my birthday with all of you with a kahaani written on it. see you again tomorrow! #RockyAurRaniKiiPremKahaani first check it out tomorrow! In theaters July 28th."

In behind-the-scenes footage of Rocky Aur Rani Ki Prem Kahaani, Alia Bhatt can be seen laughing with Karan. Ranveer Singh is seen playing with a white cushion. Ranveer is seen kissing the hand of Dharmendra, who is seen sitting next to Jaya Bachchan. Shabana Azmi was standing behind Karan, watching them. There is also a scene where Alia is looking at herself in the hand mirror. The video also shares some glimpses of all the smiling and hard-working cast members on the set of the movie.
Rocky Aur Rani Kii Prem Kahani stars Alia Bhatt and Ranveer Singh, along with Shabana Azmi, Jaya Bachchan and Dharmendra. The film marks the return of Karan Johar as a director after seven years.
See also: Karan Johar talks about Jaya Bachchan's never-before-seen role in Rocky Aur Rani Ki Prem Kahani