World
Kremlin: 'US thinks Ukraine was behind Kremlin drone attack'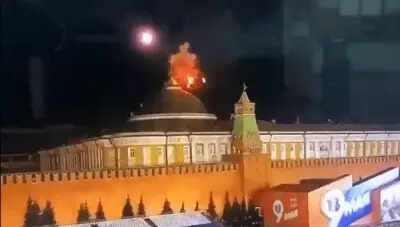 MOSCOW: US intelligence agencies believe a drone attack on Kremlin The New York Times reported that this month was likely orchestrated by Ukrainian agents or military intelligence.
The newspaper said the attack appeared to be part of a series of covert operations that made officials in the United States – Ukraine's largest supplier of military equipment – uncomfortable.
The newspaper said the US assessment was based on intercepted Russian and Ukrainian communications.
The United States has intercepted Ukrainian conversations in which officials say they believe their country is responsible for the attack, while tapping into Russian communications suggests this is not the case. some sort of Russian spoofing operation, it added.
"We immediately said that the Kiev regime was behind this," Kremlin spokesman Dmitry Peskov said when asked about the report.
"In the end, it doesn't make much difference which unit of the Kiev regime is behind this. The Kiev regime is behind this, we know this, we are aware of it and we will proceed from this as we proceed forward."
US officials say they don't trust Ukraine's president Volodymyr Zelenskyy The newspaper said it signed off all covert operations. Officials said it was unclear to what extent he was aware of such activities in advance.
Russia accuses Ukraine of plotting to kill Russian President
Putin
in the attack. Zelenskyy immediately denied any involvement of Ukraine.
The Kremlin also said the United States was behind the drone strike, a view Washington dismissed as absurd.