World
Pakistan police launch crackdown on Imran Khan's party workers ahead of Minar-e-Pakistan rally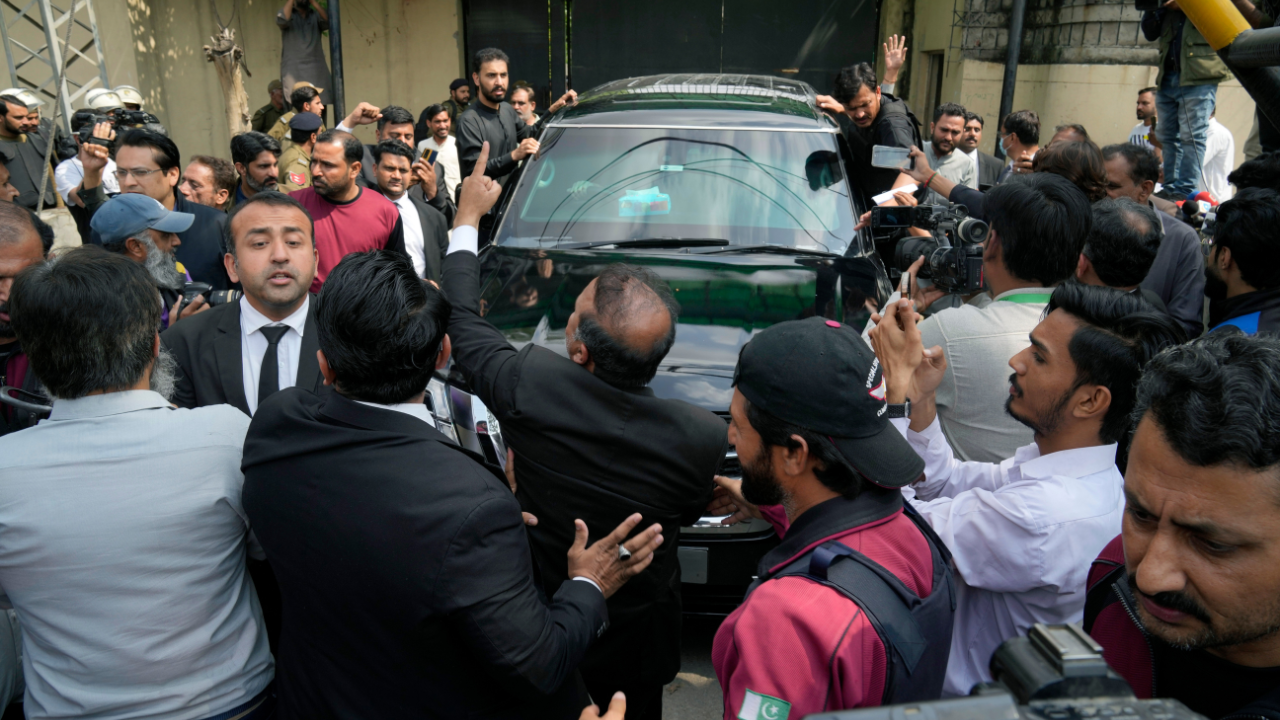 ISlamabad:
Pakistan
police on Saturday carried out a crackdown on party employees and blocked the road leading to the site, ahead of the Pakistani public gathering of Tehreek-e-Insaf (PTI) in Minar-e-Pakistan , Geo News reported.
Routes to Minar-e-Pakistan from the Ravi Railway Station and Bridge are blocked and containers have been placed at Shah Alam Market.
Meanwhile, PTI also stated that more than 50 of their workers from different areas of Rahim Yar Khan, while 26 workers including the son of PTI leader Javed Akhtar Ansari were arrested in Multan, Geo News reported.
PTI claims that many workers have also been detained from Lodhran and Bhakkar.
Earlier today, former prime minister and director of PTI
Imran Khan
tweeted, "Tonight will be our 6th jalsa at Minar e Pakistan and my heart tells me it will break all records. I invite everyone in Lahore to attend after the Tarawih (Prayer) special that muslims only do during ramadan ."
"They will put up all kinds of barriers to prevent people from attending, but I want to remind our people that their basic right is to attend a political gathering. Everyone has to assert their right. as a citizen of a free country that gained independence and came to Minar e Pakistan," he added.
The ousted prime minister, who was ousted last April through a vote of no confidence, is calling on people to come to Minar-e-Pakistan to protest the alleged "London Plan" and the scandal. An uproar was created at his mansion in Zaman Park during the search operation.
The former prime minister announced holding a "historic" public gathering in Minar-e-Pakistan in Lahore on March 19 as part of his ongoing election campaign.
However, the Lahore High Court (LHC) prevented PTI from holding a protest and asked the party to let citizens live their daily lives. Afterward, Imran Khan again announced a show of power on March 22 at the same venue, according to Geo News.
His announcement came a day after clashes broke out between police and PTI supporters when Imran Khan arrived at the judicial complex in Islamabad to appear in court in the case. Toshakhana case.
Without mentioning Maryam Nawaz, Senior Vice President of PML-N, Director of PTI said: "The 'Queen of Lies' wants a level playing field before the general election but it is all within the Plan. planning London like they want to throw me out of their way because they know very well that PTI will wipe them out," according to News International.