World
Rules: Canadian envoy raises concerns about foreign interference and rules at UN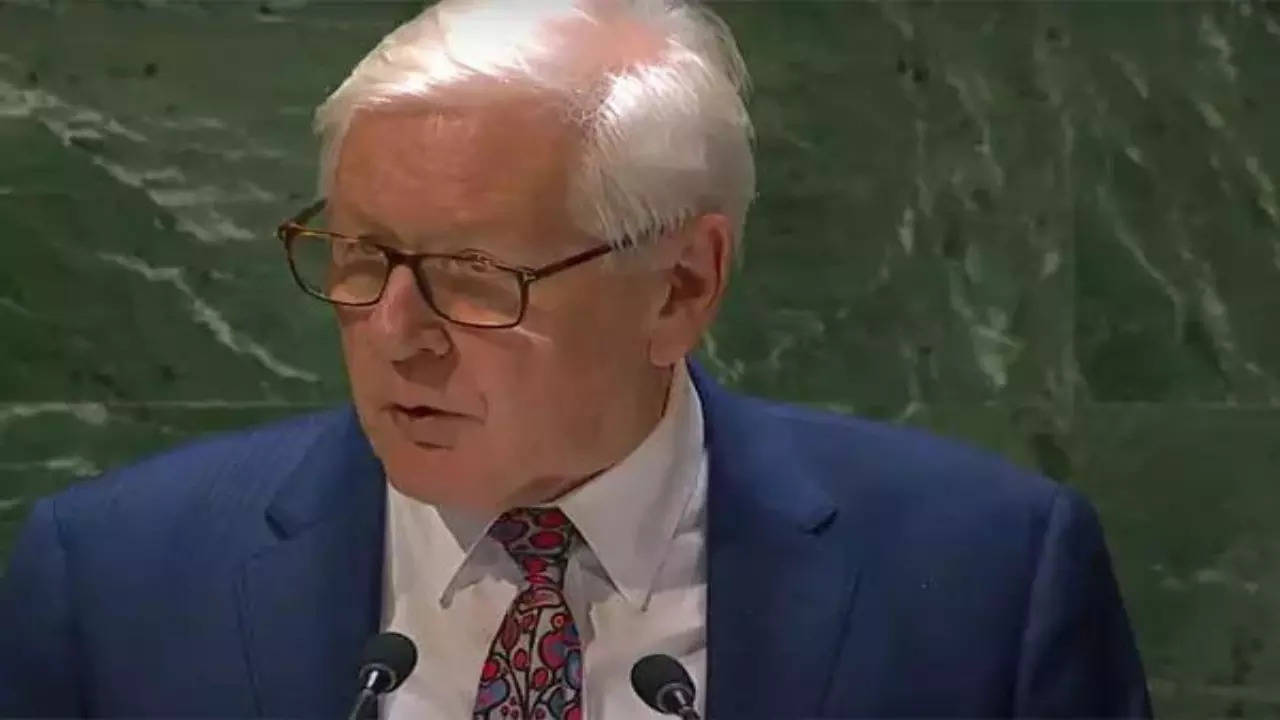 NEW YORK:
Canada
's envoy to the
United Nations
, Robert Rae, during his address to world leaders at the
UN General Assembly
on Tuesday raised the issue of "foreign interference" adding that the rules of state-to-state relations, cannot be bent for "political expediency."
Addressing the 78th session of the UN General Assembly, Rae said, "Like many people in your countries, I can assure you that Canadians are also worried about the cost of living, Artificial Intelligence, foreign interference, misinformation and disinformation. Canadians are also experiencing climate and environmental crisis".
The Canadian diplomat didn't directly address his country's concern over the killing of Nijjar, but obliquely underscored some key talking points.
Notably, his remarks come at a time when Canadian PM Justin Trudeau alleged India's role behind the killing of Khalistterrorist Hardeep Singh Nijjar. The statement was a way to steer clear of the diplomatic ties between the two nations.
"We also have to uphold the values of free and democratic societies…we cannot bend the rules of state-to-state relations for political expediency," he said.
Rae added, "Because we've seen and continue to see the extent to which democracies are under threat through various means of foreign interference".
He also spoke about unity and diversity, adding that countries can succeed only if they come together.
"Before coming here, I had the opportunity to visit the Indigenous Council of Leaders in North Ontario, Canada. They had an effective slogan, which was quite simple. They talked about the power of unity and dignity of difference…Sometimes people talk about the failure of the United Nations. I point out to them, that it is actually the divided nations that are failing. When we are united we succeed, when we are divided we fail…we only succeed if we come together," he said.
The Canadian envoy further spoke about foreign diaspora in Canada, and said that admitting more people made the country a 'better place'.
"…In Canada, we decided to admit more people into our country than ever before, because we have found that immigration has made us a better country, and has also made us a better place to live," Rae added.
Earlier, during the UN Session on Tuesday, External Affairs Minister S Jaishankar said that "political convenience" should not be countenanced in determining responses to terrorism and extremism in an apparent reference to Canada amid a diplomatic standoff between the two countries.
"The power of markets should not be utilized to steer food and energy from the needy to the wealthy. Nor must we countenance that political convenience determines responses to terrorism, extremism and violence," he said.
On September 18, PM Trudeau said his country's national security officials had reasons to believe that "agents of the
Indian government
" carried out the killing of the Canadian citizen, who also served as the president of Surrey's Guru Nanak Sikh Gurdwara.
"Canadian security agencies have been actively pursuing credible allegations of a potential link between agents of the Government of India and the killing of a Canadian citizen, Hardeep Singh Nijjar," Trudeau said.
He stressed that the involvement of a foreign hand or government in the killing of a Canadian citizen in Canada was unacceptable.
"Any involvement of a foreign government in the killing of a Canadian citizen on Canadian soil is an unacceptable violation of our sovereignty. It is contrary to the fundamental rules by which free, open, and democratic societies conduct themselves," Trudeau added.
India on the other hand, has out-rightly denied Trudeau's allegations calling them 'absurd' and 'motivated'.
This has also triggered a diplomatic standoff between the two countries, with both nations expelling a senior diplomat of each other and New Delhi also suspending the visa service in Canada.
Nijjar, the chief of Khalistan Tiger Force (KTF) -a Sikh extremist organisation banned by India -and a "designated terrorist" was gunned down in Canada's Surrey on June 18.