Entertainment
Sam Asghari Jokingly Asks Fans For Help Hiding From Paparazzi Amid Britney Spears Divorce!
 Sam Asghari is making jokes amid his divorce from Britney Spears.
Days after shocking the world with news of their breakup, the 29-year-old former personal trainer took to Instagram Stories on Saturday and asked his followers to "help me choose paparazzi disguise" He showed three different options, including one with a gray wig, mustache, and glasses. Another photo showed him sporting a brown curly wig and aviator sunglasses. And the third had him wearing a different brunette hairdo. You can ch-ch-check out the post (below):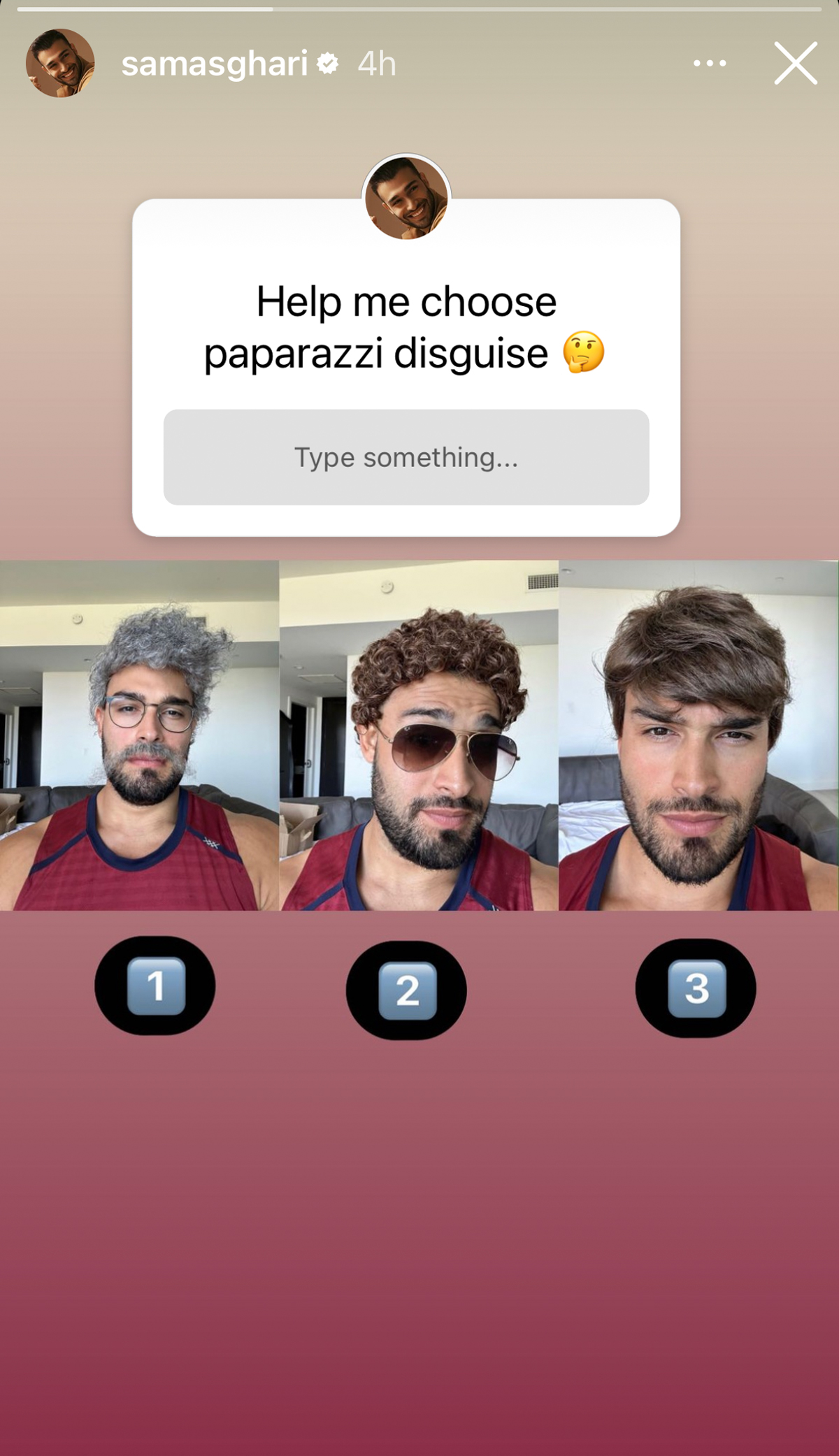 Related: Britney Terrified Sam Will Try To Get Custody Of Her Dogs!
Obviously, Sam is trying to keep a low profile – in public, at least — amid his divorce.  But when it comes to social media, we guess he doesn't plan on staying off it right now. But this post came after Britney spoke out for the first time about their breakup. She hopped on the 'gram Friday to share how she was "a little shocked" by the fact their marriage is coming to an end but also recognized she just "couldn't take the pain anymore." The 41-year-old pop sensation added:
"In some sort of telepathic way I have been receiving so many messages that melt my heart from friends and I thank you !!! I've been playing it strong for way too long and my Instagram may seem perfect but it's far from reality and I think we all know that !!! I would love to show my emotions and tears on how I really feel but some reason I've always had to hide my weaknesses !!!" she continues. "If I wasn't my dad's strong soldier, I would be sent away to places to get fixed by doctors !!! But that's when I needed family the most !!! You're supposed to be loved unconditionally … not under conditions !!!! So I will be as strong as I can and do my best !!! And I'm actually doing pretty damn good !!!"
For his part, Sam – who had been the one to file for divorce this week – offered a brief statement to fans, simply saying "s**t happens." A rep for the actor also cleared up several rumors to ET over the past week, including that he was blackmailing Britney:
"There are many claims that Sam is challenging the prenup and threatening to exploit his ex-wife with videos. However, all these claims are false, as no negative intention has ever been directed towards her and never will be. Sam has always and will always support her."
Hmmm…
Here's the thing: According to TMZ, Sam is supposed to get absolutely nothing from the divorce based on the prenuptial agreement they have in place. However, he is now asking the Toxic singer to give him spousal support and to cover his legal fees. So that means he is basically "challenging the prenup." Even if a judge upheld the prenup – which most likely would be the case – he will still end up getting thousands from Britney! Why? There's a chance she would pay him to not spill any secrets about their relationship. Sounds a lot like those extortion claims, right?
This divorce appears to getting very nasty, so it's no wonder Sam wants to lay low right now. Reactions to Sam's new comment, Perezcious readers? Let us know in the comments below.
[Image via Sam Asghari/Instagram, Britney Spears/Instagram]