World
Sex, lies and video cams: Andrew Tate turned women into slaves, prosecutors say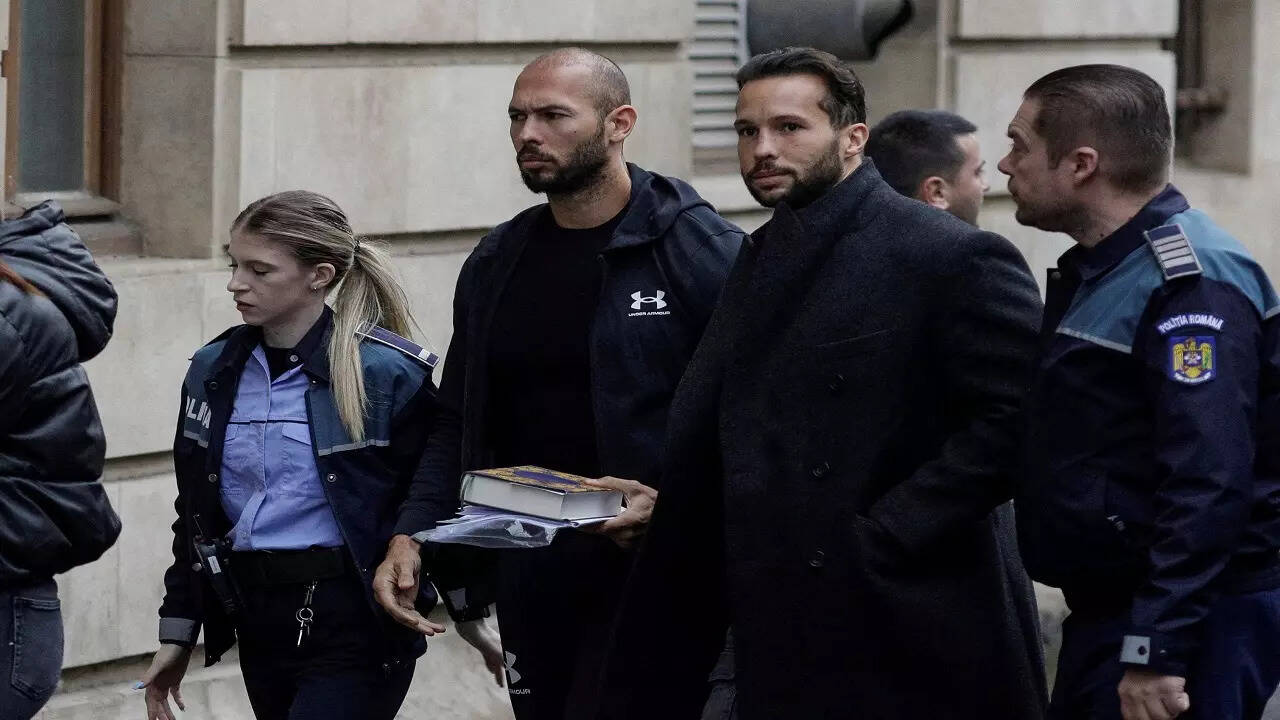 BUCHAREST: The woman from Moldova thinks it's love. internet celebrity Andrew Tate gave her a new life. They even discussed marriage. He asked for only one thing: absolute loyalty.
"You have to understand that once you're mine, you'll be mine forever," Tate told her on February 4 last year in one of dozens of WhatsApp messages cited by Romanian prosecutors, who accused him of trafficking and sexually exploiting several women.
Tate, an influencer with millions of followers online, urged the Moldovan woman to join him in Romania. "Nothing bad will happen," he assured her on February 9. "But you have to be on my side."
The following month, Romanian prosecutors said, Tate raped the woman twice in the country while seeking to involve her in a human trafficking operation centered on the production of pornography for the platform. Online OnlyFans, a website that allows people to sell their own pornographic videos.
The allegations and messages are included in a previously unpublished court document, dated December 30 and reviewed by Reuters, which paints the most detailed picture of illegal business. allegedly run by Tate, a former world kickboxing champion, and his brother, Tristan.
They came to light after the arrest of the two brothers on December 29 for allegedly forming a criminal gang that sexually exploited women.
British-American Andrew Tate, 36, has mainly lived in Romania since 2017 and his 34-year-old brother has denied any charges against them. Reuters was unable to reach them in police custody for comment.
To answer questions, their attorney Eugen Vidinac said he could not publicly confirm or deny information about the incident while the investigation was ongoing. Romania's organized crime unit also said its prosecutors could not comment on the investigation.
Reuters translated WhatsApp conversations with Moldovan women – who appeared in Romanian in court documents – into English, their original language. While accurate, the translation of the Romanian version provided by prosecutors may not be the same as the original wording.
Prosecutors said in the document that the brothers deceived and threatened to control six women and "turn them into slaves". The 61-page dossier, provided by Bucharest court officials, includes the transcript of the hearing when the judge extended Tates' detention along with evidence submitted by the prosecution.
Attorney Vidineac said the brothers' alleged victims were not abusive but "lived off the support of the famous Tates," according to court documents. "They are happy and no one is forcing them to do these things," he added.
Vidineac admitted in the document that Andrew Tate and the Moldovan woman had sex but he said it was consensual and accused her of fabricating rape allegations.
Reuters could not independently corroborate the version of events provided by prosecutors or defense attorneys and could not reach the six women named in the document for comment. News organizations typically do not identify alleged victims of sex crimes unless they choose to disclose their names.
Two of the women told Romanian television station Antena3 on 11 January that they were not victims and that Tates was innocent. The station only identifies them by first name, Beatrice and Iasmina.
"You can't list me as a victim if I say I'm not," Beatrice told the station. Four other women, including the Moldovan woman, have not yet commented publicly.
FAN ONLY: WE FOLLOWED TATE
The charges Tate faces are highly focused on a self-described misogynist who has built an online fan base, particularly of young men, by promoting a lavish, super-masculine image of driving fast cars and dating beautiful women.
In 2022, he is the eighth most searched person by Google in the world, just behind the likes of Johnny Depp,
Will Smith
and Vladimir Putin, according to Google analysis.
Prosecutors say Tates controlled the victim's OnlyFans accounts and earned tens of thousands of euros, highlighting concerns by some human rights groups about the potential exploitation of women on platforms such as So.
Reuters was unable to verify the existence of the OnlyFans accounts of the alleged victims.
UK-based OnlyFans has 150 million users who pay a monthly fee to "creators" of varying amounts for their content, mostly porn or pornography, in addition to in the areas of areas such as fitness training and music.
The company, which has 1.5 million creators who can make anything from hundreds of dollars to tens of thousands of dollars per month, says on its website that it's a "digital media platform." the safest". It was founded in 2016 and grew rapidly during the COVID-19 shutdown.
Spokesperson Sue Beeby told Reuters that Andrew Tate "never had" a creator account or received payments. She said OnlyFans has been tracking him since early 2022 and took "proactive measures" to prevent him from posting or monetizing content without explaining the reason for the monitoring or the steps taken.
She added that all creators have gone through extensive identity checks and all content has been reviewed by the platform, which has worked closely with law enforcement. Vidineac declined to comment on the measures OnlyFans took against Tate.
HOW I GET WOMEN
LOVE ME
The image of Andrew Tate has caused a series of controversial comments. He compares women to dogs and says they bear some responsibility for being raped. His comments got him banned from Facebook, Instagram and other top social media platforms last year.
A spokesperson for Meta said Tate was banned in August 2022 on their Facebook and Instagram platforms for violating their policies, banning "gender-based hate, any threats of sexual violence, sexually or threatening to share intimate images without consent".
Tate said on a podcast in 2021 that he had started a webcam business in the UK, culminating in 75 women working for him, making $600,000 a month – an amount that Reuters could not verify. independence. He did not elaborate in the podcast about what the women did.
Until last month, his website offered a course worth more than $400 that promised to teach "step-by-step how to build a submissive, loyal, and loving girl."
"THIS IS MY SKILL. To make women fall in love with me in a super effective way," he says on the website. The course pages, reviewed by Reuters, were removed in January.
In a separate YouTube video aimed at men looking to make money by bringing women into OnlyFans, Tate called the platform "the biggest hustle in the world". The original date of the video, which was uploaded multiple times, is unclear.
In court documents, lawyer Vidineac said Tate's online character is a "virtual character" built to attract followers and make money, and "has nothing to do with a real man." .
Tate's Twitter account, reinstated in November, a month after billionaire Elon Musk acquired the platform, protested his innocence in front of his 4.8 million followers. "They made me 'search' for evidence…which they won't find because it doesn't exist," a January 15 post said.
WOMEN 'WORRY'
Tate first met the virtual Moldovan woman on Instagram in January 2022 before they met in person in London the following month and by March she was in Romania, prosecutors said in court documents, includes WhatsApp exchanges from February 4 to April 8. .
Authorities arrested the brothers on April 11, when police raided one of their properties in Bucharest on suspicion that an American woman was being held there against her will. .
According to prosecutors, the American woman – one of the six alleged victims – met Tristan Tate online in November 2021, then met in person in Miami the following month. They say he lured her to Romania by expressing "wrong feelings" to her and promising a serious relationship, paying for her plane tickets, and saying he could help her earn." 100k per month" on OnlyFans.
Tristan Tate picked her up at Bucharest airport in a Rolls-Royce on April 5, 2022 and took her to his home, where two armed bodyguards were located, court documents said.
He tells her she is not a prisoner but says the guards won't let her out without his permission. He said it was dangerous for her to leave "because he has enemies".
In the document, prosecutors said there were cameras in the home that Tristan Tate monitored remotely. He once texted Americans saying he could see where she was and what she was up to, they said.
Prosecutors said when she moved into another home with four of Andrew Tate's "girlfriends," she was allowed to go out, but only when accompanied by other women, adding that she " very scared" brothers.
In the document, Tate's attorney said the American woman had a cell phone, internet access and the freedom to leave the house at will.
The woman has not spoken publicly about Tates or prosecutors' allegations.
Romanian prosecutors said on January 15 that as part of their investigation of the suspects, they had seized assets worth nearly $4 million, including a fleet of luxury cars, from Andrew's estate Tate on the outskirts of Bucharest.
'SEXUAL EXPRESSION CONTENT'
The detention of Tates, along with two Romanian women allegedly working for them, was extended to February 27. Their appeal against that detention was dismissed by a court on Wednesday. . A judge can order them to be detained for up to 180 days while the investigation is ongoing, which means it could last until the end of June.
Suspected co-conspirators, Georgiana Naghel and Luana Radu, controlled six of the victims' OnlyFans and TikTok accounts on behalf of Tates, stealing half of the revenue and fined women who were late or sniffled in front of the camera, the companies said. prosecutor said.
According to court documents, the couple threatened to beat the women if they didn't do their jobs.
Naghel and Radu have denied all charges against them. Vidineac, who also represents Naghel, and Radu's attorney said they could not comment on the case.
Prosecutors said Tates' operation put women on TikTok to drive traffic to OnlyFans because of its lucrative subscriptions. Reuters was unable to independently verify the existence of the TikTok accounts in question.
TikTok said in a statement that Andrew Tate has been banned from its platform and that it has taken action against videos and accounts related to him that violate the ban for "sexually exploitative content." .
The company declined to comment further, citing Romania's ongoing investigation.