Entertainment
Taylor Swift and Travis Kelce relationship update: Details and photos from Kansas Chiefs game that have fans in a frenzy
In case you hadn't heard, Taylor Swift attended the Kansas City Chiefs game on Monday (Sunday US time) to support her rumoured beau, Travis Kelce.
Kelce's number 87 jersey has absolutely skyrocketed in terms of sales, with the NFL's official e-commerce partner, Fanatics reporting the garment was not only in the five top-selling NFL player jersey yesterday, but there was an almost 400 per cent spike in sales overnight.
The Swifties have officially entered the NFL chat.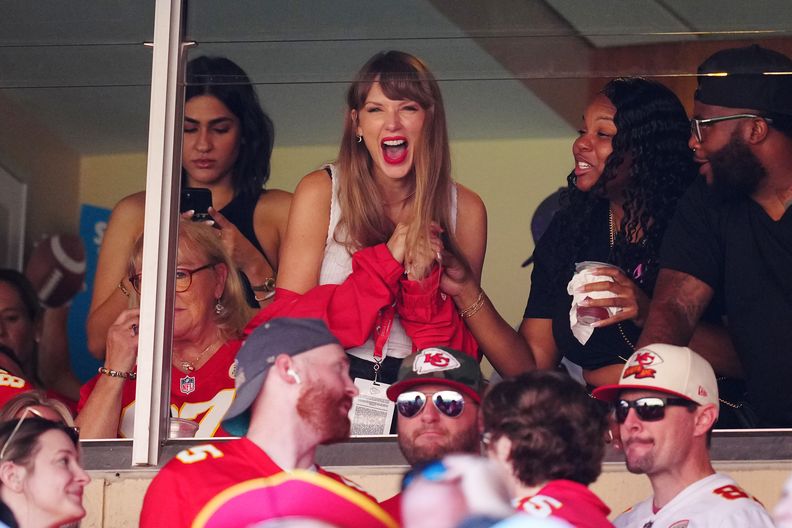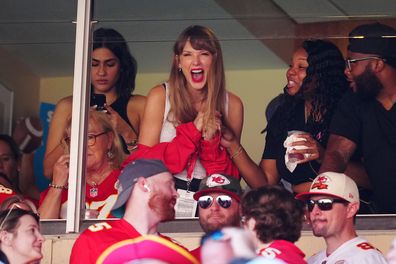 READ MORE: Taylor Swift and Travis Kelce: A comprehensive timeline
The ESPN, NFL, and Chiefs social media pages are all currently flooded with Swift content
ESPN even attemped to remarket to the Swiftie target audience with an adorable High School Musical meme.
"T, as in Travis?"
Social media has been in an absolute frenzy from the second the camera panned to Swift in Kelce's suite at the game.
She seemed to be having an absolute ball, laughing and chatting with none other than Kelce's mum, Donna Kelce (more affectionately known as Mama Kelce).
Following the game, Swift and Kelce were spotted making a getaway in the athlete's old-school convertible, presumably on their way to his Kansas City mansion.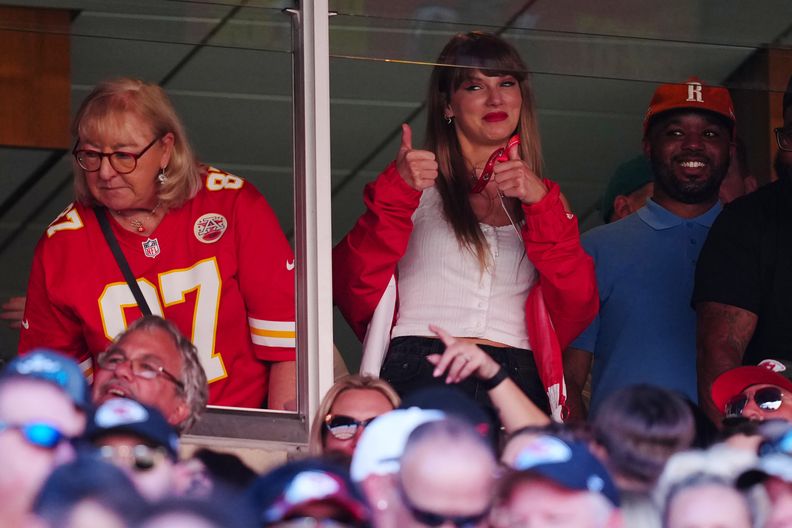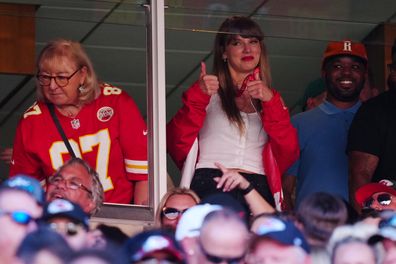 Videos quickly surfaced on TikTok of locals claiming they were asked to leave a restaurant mid-way through their dinner, and were told the whole thing would be paid for by non other than Swift herself.
Deux Moi reports the duo attended Prime Social in Kansas City, Missouri following the game.
The celebrity gossip account received numerous tips Kelce had a reservation at the cocktail bar's rooftop lounge to host an afterparty, and Swift offered to pay the bill of anyone who was still dining at the time of their reservation.
An eyewitness told Entertainment Tonight, "Travis bought out the restaurant for his family and team. Taylor arrived, wearing a denim dress, and was seen snacking, having some cocktails and dancing alongside Travis.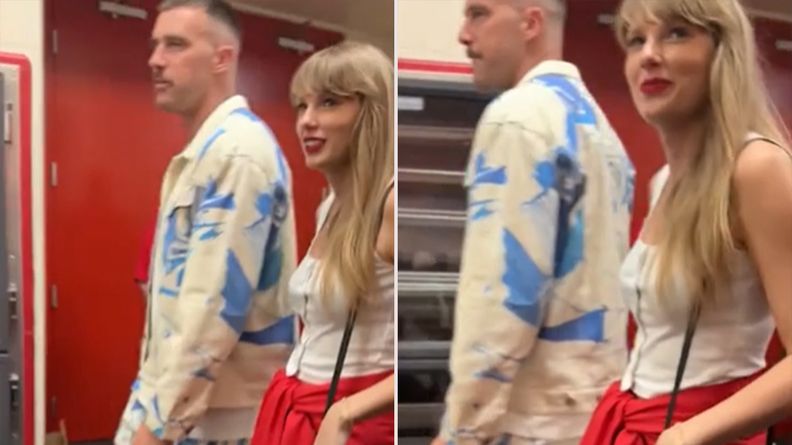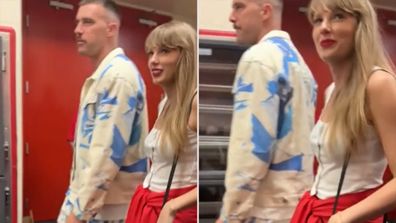 "The two were very affectionate with one another but kept things fun and lighthearted. Travis' teammates also showed up to the after-party, as well as his mom, Donna Kelce. The party lasted until 2 A.M."
Swifties have been closely analysing (as expected) any and all pieces of content that surfaced during and following the game, so we've compiled a list of every little detail fans are going crazy over.
Swift's sneaky exit
Swift is known for her sneaky entrances and exits, with fans often speculating she enters her own concert hidden in a mop bucket.
No one saw her leaving Arrowhead Stadium with their own two eyes, but one TikTok user was quick to point out the most obvious way for her to escape – via popcorn cart.
Watch the video above.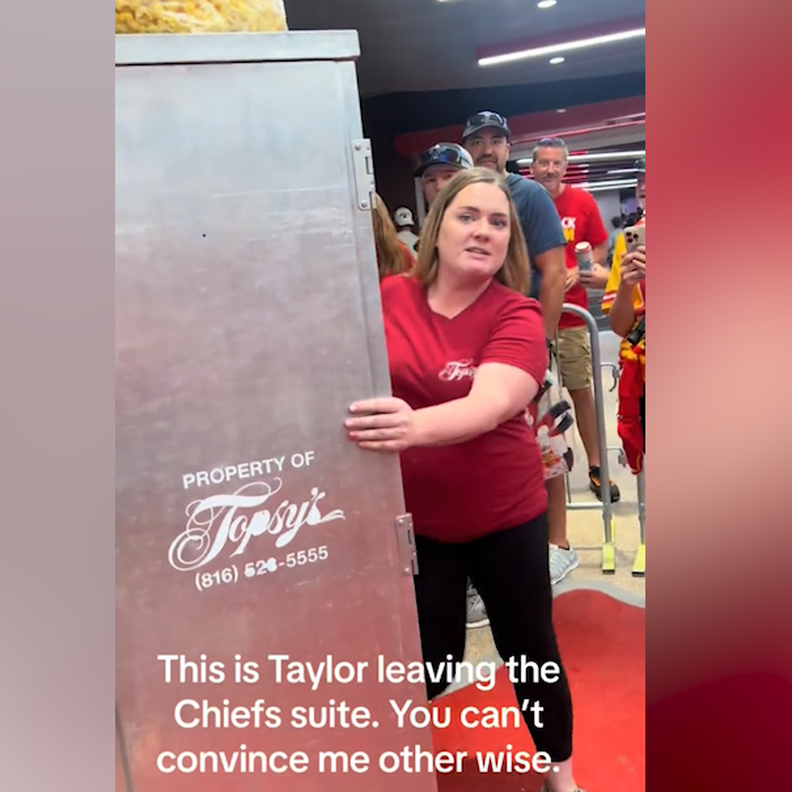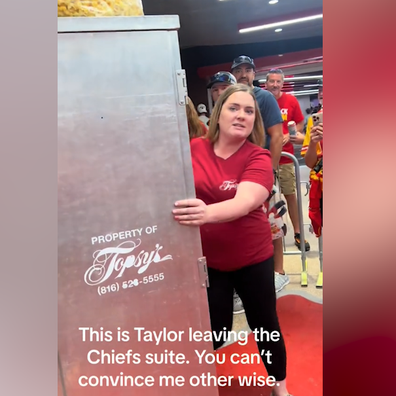 A large popcorn cart was wheeled out of the stadium with fans watching behind barricades, and while no one thought much of it at the time, it seems now that humble popcorn cart might have actually been worth about $740million.
Kelce's subtle Swift merch
When the first images of the pair leaving the stadium were released, fans were quick to point out Kelce's white and baby blue outfit seemed very 1989-coded – referring to the colour theme of her 2014 album of the same name.
After a quick bit of digging, it seemed that's exactly what Kelce was going for. His outfit from Kid Super was the '1989 Bedroom Painting Set'.
With Swift showing up at his game wearing Kansas City Chiefs merch, it seems Kelce wanted to show that same support for his (rumoured) boo, wearing an outfit to represent her next upcoming re-release.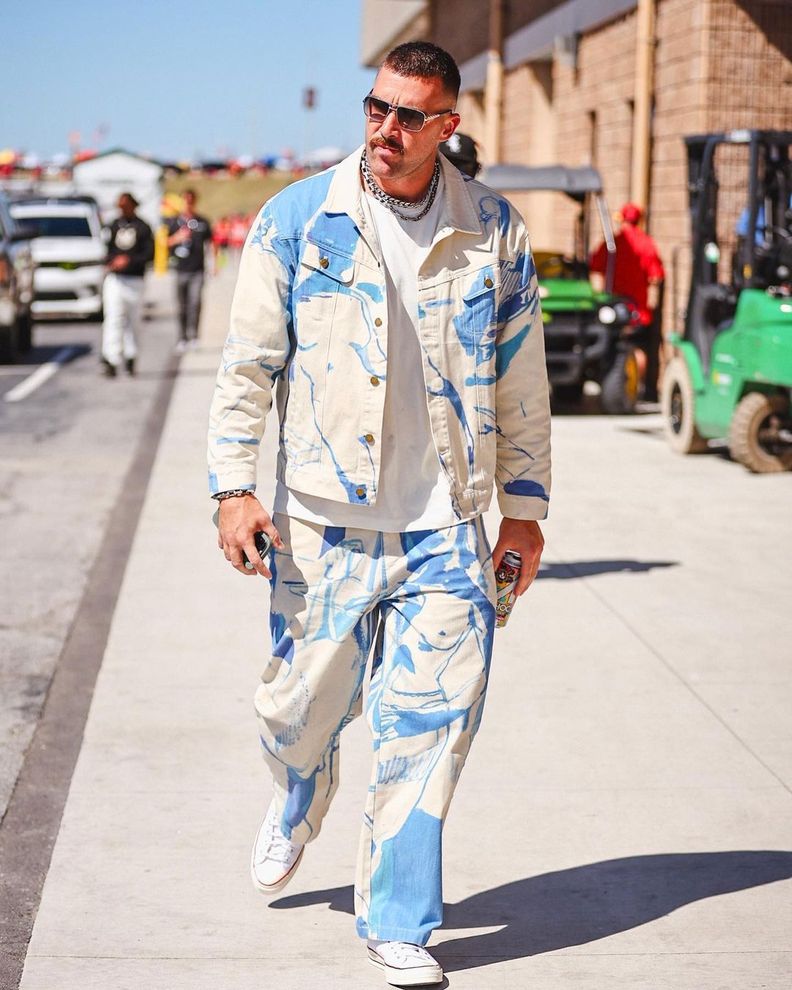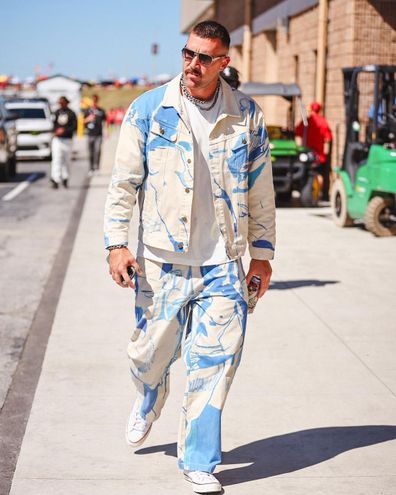 Kelce couldn't hide his smile
Luckily for Kelce, the game was absolute blowout in the Chiefs' favour – and we're not superstitious, but it's important to point out the team has never lost a game with Swift in attendance.
They were winning by such a landslide, Fox Sports actually switched the game off before it ended to broadcast a more interesting match.
Since Kelce is one of the team's key players, he was eventually taken off the field to avoid injury once it seemed that they had the win locked in.
He was seen on the sidelines, reportedly asking if he could go up to his suite to sit with Swift and the rest of his families and friends.
Apparently, Kelce's request was declined but a video made the rounds of him looking up at his suite, presumably at Swift, and just look at that smile on his face!
Kelce introduces teammate Patrick Mahomes
Another adorable interaction caught on camera was Kelce with Chiefs quarterback, Patrick Mahomes.
The duo were on the sidelines looking up toward Kelce's suite when Mahomes gave someone up there a shy little wave.
It seems Kelce just couldn't wait to introduce Swift to his friends.
The NFL changed their bio
On the same day they announced the Super Bowl halftime show, the official NFL account changed their TikTok bio.
Surprisingly, it wasn't to reflect the announcement that Usher would be headlining American sports biggest day of the year.
Instead, the bio read, "09/24/23. Taylor was here."
Fox Sport knew what the people wanted to see
Following Kelce's touchdown, the camera stayed on him to get his reaction for a total of about five seconds, before quickly panning to Swift's reaction for a total of 12 seconds.
They understood what the people wanted to see.
Chiefs fans have also noted that Kelce's usual 'cocky' behaviour on the football field seemed to be missing this week, as he appeared much more nervous and reserved.
It seems like he really wanted to impress his special guest. 
It's been written in the stars since 2006
With Kelce's jersey number being 87, and Swift's next album to come out being her re-release of 1989, Swifties were quick to point out that this relationship has been in the stars since 2006.
Mary's Song (Oh My My My) from Swift's 2006 debut album features a lyric that says, "and I'll be 87, you'll be 89."
So, it seems like Travlor is fate manifested by a 16-year-old Swift over 17 years ago.
It's also worth noting that the Chiefs have resurfaced an old video of Kelce being asked as part of a TikTok who his teenage celebrity crush was, to which he responded, 'Taylor Swift'. 
We should have seen this coming earlier.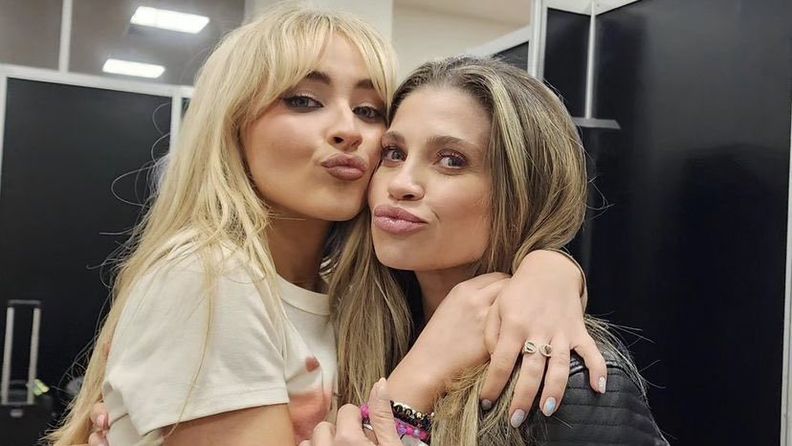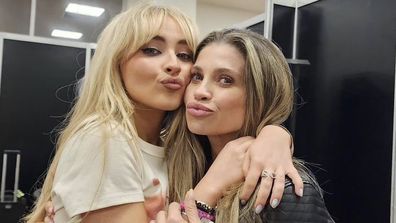 All the celebrities spotted at Taylor Swift's Eras shows
Patrick Mahomes was asked about Swift following the game
For years, Swift has battled with the fact that her and her achievements have been diminished to who she dates, with reporters often asking her about her relationships rather than her career.
On Monday, in a beautiful reversal of roles, the professional NFL players were the ones being asked about the relationship rumours rather than Swift herself.
In two post game interviews, Chiefs quarterback Patrick Mahomes was asked about the superstars attendance at the game.
The first was an on-field interview where Mahomes was asked if he could feel the pressure to get Kelce a touchdown with Swift watching in the stands.
He responded, "I knew I had to get it to Trav… I think he wanted to get it into the end zone just as much as all the other Swifties wanted him too."
Later, in a press conference, Mahomes was asked about Swift again.
"Yeah I mean she's a tremendous singer, tremendous at everything she does," he said.
"I haven't got to meet her, but I mean I guess if she ends up being with Travis then I'll probably get to meet her at some point.
"She seems like a good person so hopefully I get to meet her one day."
Mahomes also said that Kelce casually said to him two days prior to the game that Swift might be attending, but didn't touch on it again until she was spotted in the stands.
Seems like Kelce was trying to play it cool.
For a daily dose of 9Honey, subscribe to our newsletter here.
There's no news if Swift will be in attendance at any future Chiefs games, but fans are speculating she might make an appearance at the November 20 game against the Philadelphia Eagles.
Not only does Kelce's brother, Jason, play for the Eagles, but Swift is very public about her love for the team seeing as Philadelphia is her home town.
So keep your eyes peeled on November 20 – we might see Swift in the stands next to Mama Kelce, but who knows which team she'll be supporting.