News
Two more teenagers arrested over fatal stabbings of Charlie Bartolo and Kearne Solanke in southeast London | UK News
Two more teenagers have been arrested for stabbing two 16-year-old boys in south-east London.
Police arrested the suspects, aged 15 and 16, following the killings of Charlie Bartolo and Kearne Solanke in two separate incidents about a mile apart over the weekend.
Charlie was found with stab wounds in Sewell Road, Abbey Wood, around 5:10pm on Saturday, Kearne was found with similar injuries in Titmuss Avenue, Thamesmead, around that time.
Another 16-year-old previously arrested on Sunday on suspicion of both murders has been released on bail pending further investigation.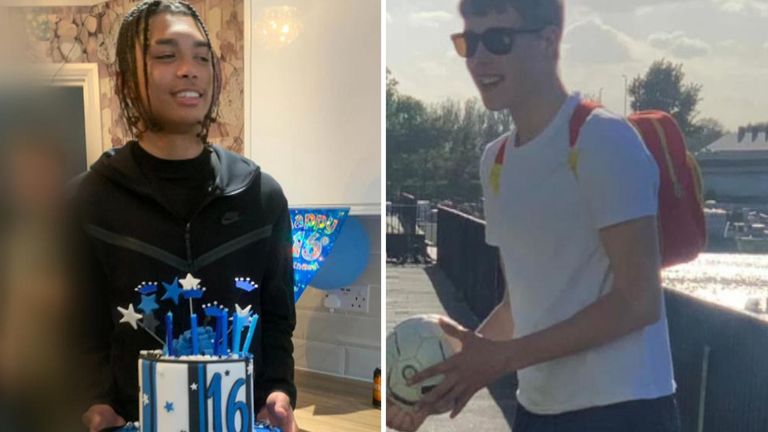 Detective Chief Inspector Kate Blackburn said: "My officers are working around the clock to determine the circumstances of these senseless murders and find those responsible."
She added that the force is investigating a number of "questions" and that she "keeps an open mind about any motives".
"The arrests are a positive development, but we continue to work to understand the events that took place on Saturday night," she said.
'Help us bring justice to these boys'
The Met Police have appealed to anyone with information about the incident, especially those who have seen a black Nissan Qashqai with silver roof bars in either area for a few days or hours. before the murder.
"We are in possession of the vehicle, but are still concerned about witnesses who may have seen it driven locally. The information you provide can help us bring justice to these boys and their families. their families," added DCI Blackburn.
Detective Superintendent Richard McDonagh, from Southeast Command, assured the local community that officers would "work tirelessly" to uncover what happened and urged people to continue to cooperate. to "prevent such tragedies" in the future.
Charlie and Kearne's family is being supported by specialist officers.