News
Ukraine war: Liberated but still desperate – freed from the Russian yoke, but left with nothing | World News
A wave of despair rose around a Ukrainian aid truck in a town that had been liberated from Russian control just days earlier.
"Please give me a parcel to help my son, I have a walking stick," said a tiny old woman, pinned on the back of the car as others tried to get help overhead.
The people of Balakliya cheered at the sudden expulsion of Russian soldiers from their streets. But they said life is still difficult because the town has no electricity, many buildings have been destroyed and landmines are scattered on the ground in surrounding fields.
One man, his face, said a cow farm had suffered heavy damage from shelling during the last nearly seven months of war. "Cows can roam, but they are being killed for stepping on their beaks," he said.
Balakliya was the first key town to be recaptured by the Ukrainians in a blitzkrieg through the eastern Kharkiv region, which was launched unobtrusively on 6 September.
Hanna Maliar, Ukraine's deputy defense minister, said the counterattack had happened reclaimed terrain on a scale equivalent to twice the area of ​​Greater London.
Ukraine War – all the latest updates and news, live
She speaks Ukraine will recapture the entire area.
"It's absolutely a turning point in this war," the minister told Sky News on Tuesday, standing in the center of town, next to a newly raised Ukrainian flag.
"It shows the dynamics of the Ukrainian army, although Russia still have a larger number of weapons. "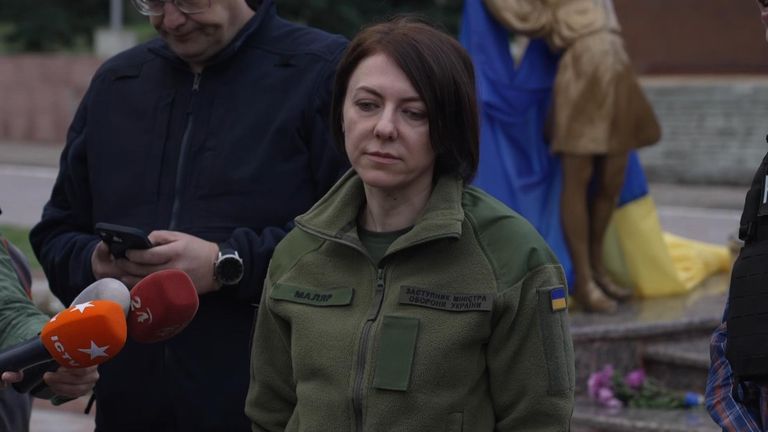 Read more:
Full security is being restored,' President Volodymyr Zelenskyy told his people
Russia 'spends £260m on covert operations to influence politicians around the world'
As the Russian forces disappeared, Ukrainian investigators were gathering evidence of suspected war crimes committed during the occupation.
One such incident is believed to be on the day the Ukrainian counter-offensive began.
Sergii Bolvinov, chief investigator in Kharkiv, said two civilians were shot dead by Russian soldiers in their vehicle at a checkpoint in Balakliya.
Bullet holes in the body
"On the morning of September 7, the locals found the bodies and buried them here," he said, pointing to a hole in a patch of land.
The bodies were then dug up, placed in body bags and will be sent for a forensic examination.
"We have noted bullet holes on both bodies," said the lead investigator.
The remains of a total of five people have been found in war crimes investigations so far, a second official said, in particular.
"But believe me this is not the end, unfortunately. This is not the final data," he told a large group of journalists in a media facility arranged by the Ukrainian authorities in Balakliya. and a nearby village.
Witness: The body was rotting as one describes the neighbor's burial – life in a liberated village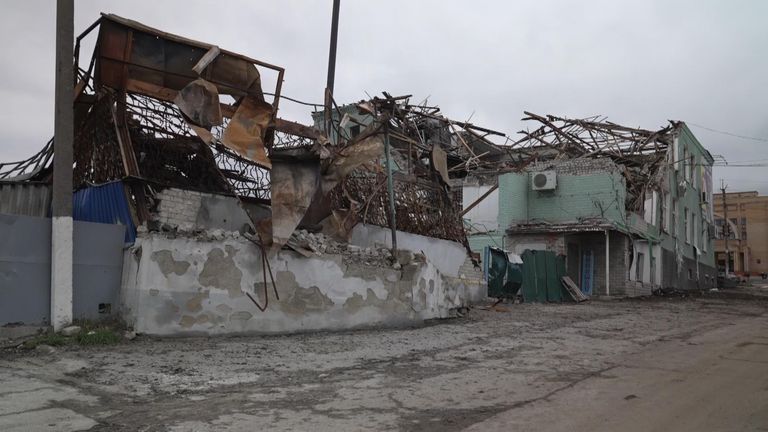 Access to the front lines has been greatly restricted since the start of the counterattack, making it difficult to approach independently – very difficult to understand what is going on.
One of the alleged crime scenes is the Balaklyia police station.
Investigators said it was used to torture people. One man may have even been beaten to death, according to the chief investigator.
Cells with no windows, no light
In total, he said, up to 300 people were detained by the Russian military in appalling conditions at the police station.
Five closet-like cells, with no light and no windows, line a short and dingy corridor.
The lead investigator said inmates were herded into rooms, some without access to toilets. He pointed to where detainees had scratches on the walls to mark the number of days they were incarcerated.
One accumulates up to 70 days, another is 32 days and another is 26.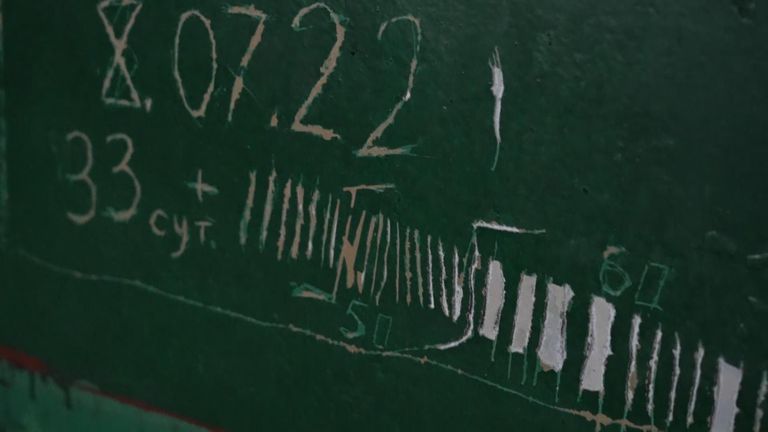 In another part of the station is a room that investigators say was used to torture prisoners with electric cables.
Police also found a larger room, with a row of dirty chairs leaning against a wall. They say this is the place of interrogation.
The lead investigator said officers heard testimony from detainees who were beaten here.
Liberate, release, free
Ukrainian forces launched the offensive to liberate Balakliya in the early morning of 6 September.
Residents in the nearby village of Verbivka said they had seen Russian troops flee from the local school, which they used as a military headquarters during the occupation.
Finally that day, a Russian missile was hit back into the building, destroying it.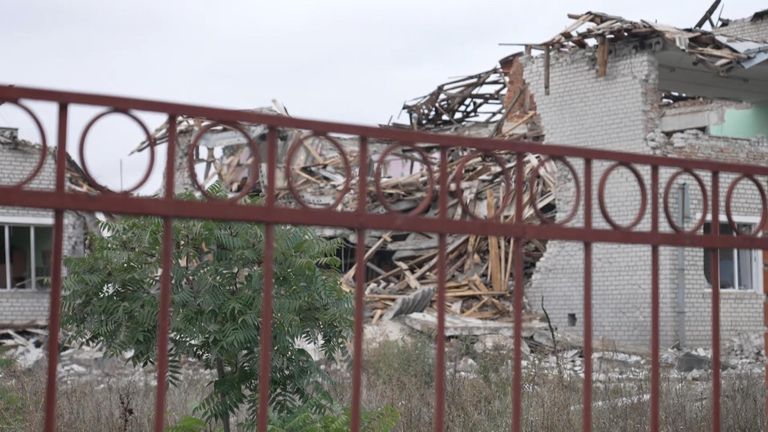 A crowd of local residents gathered near the wreckage on Tuesday, as Ukrainian officials escorted a large group of journalists to the village and into Balakliya.
"What about our grandchildren?" a woman crying. "We don't have a school."